Protesters in Germany Rally against Arms Deliveries to Ukraine (+Video)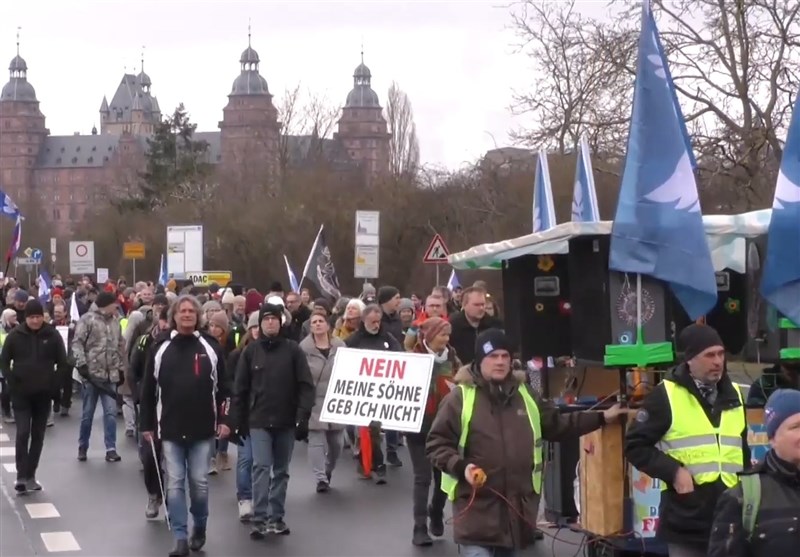 TEHRAN (Tasnim) – Hundreds of demonstrators marched through the streets of Aschaffenburg on Sunday to protest against the ongoing delivery of arms to Ukraine, calling for an end to the conflict.
Carrying flags and banners with slogans such as 'All together for peace', 'I am at peace with Russia and Ukraine', and 'Weapons don't bring peace', the protesters demanded an end to Germany's support for the Ukrainian military.
Germany has been providing financial, military, and humanitarian aid to Ukraine since the start of the armed conflict.
The German Defence Ministry recently announced a 1 billion euro military aid package to Ukraine, which has sparked protests in various cities across the globe in recent months. The continued arms deliveries to Kiev, sanctions on Russia, and the gas embargo have added to the tensions.
In February last year, Moscow launched a military offensive in Ukraine after recognizing the independence of the Donetsk and Lugansk People's Republics (DPR and LPR), alleging that Kiev had failed to guarantee their special status under the 2014 Minsk Agreements and urging Ukraine to declare itself officially neutral and give assurances that it would never join NATO. Ukraine denounced the move as an "invasion."
Ukrainian President Vladimir Zelensky imposed martial law across the country and declared a general mobilization, while the EU and the US imposed several rounds of sanctions on Moscow. The arms deliveries have drawn criticism from those who believe that providing weapons to Ukraine will only escalate the conflict.