Iran, Belarus Sign Cooperation Road Map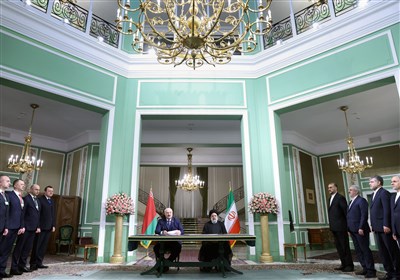 TEHRAN (Tasnim) – The presidents of Iran and Belarus signed a road map to comprehensive cooperation between the two countries in addition to several agreements in various fields.
Following high-profile talks in Tehran on Monday, Iranian President Ebrahim Raisi and his Belarusian counterpart Alexander Lukashenko signed the road map to comprehensive cooperation between the two states.
Ministers and ranking officials from the two countries also signed seven other cooperation agreements in the event.
The deals entail interaction in the trade sector, transportation, agriculture, cultural and artistic activities, extradition of convicts, and implementation of plans on the occasion of the 30th anniversary of establishment of relations between the two countries.
Speaking at a joint press conference with the Belarusian leader after the event, President Raisi expressed hope that the agreements would strengthen the bilateral relations and fulfill the mutual interests of the two nations.
Describing Lukashenko's visit to Iran as a milestone in the promotion of ties between Tehran and Minsk, Raisi said the road map to comprehensive cooperation and enhancement of strategic relations will mark a different future of ties.
Highlighting Iran's progress under the pressure of sanctions and its success to turn the threats into opportunities, Raisi said, "Iran is prepared to share its experiences in this era (of sanctions) with Belarus, as a friendly country."
He also voiced Iran's determination to broaden ties with Belarus in the regional and international organizations, saying fruitful negotiations have been held in this regard.
Highlighting Iran and Belarus' opposition to unilateralism and support for constructive collaboration among the independent states against the sanctions, Raisi added, "We can have very good cooperation by using the capacity of the Shanghai Cooperation Organization and the Eurasian Economic Union and promote such cooperation according to the common stances and interests."
For his part, the Belarusian president lauded Iran for making progress independently regardless of the sanctions and pressures.
Lukashenko stated that the implementation of all bilateral agreements will allow Belarus and Iran to raise the value of trade exchanges to $100 million.
He also stated that Belarus and Iran share views on the regional and international issues, as they both favor fairness and multilateralism in the world.