Iran, Iraq Taking Giant Stride to Strengthen Bilateral Trade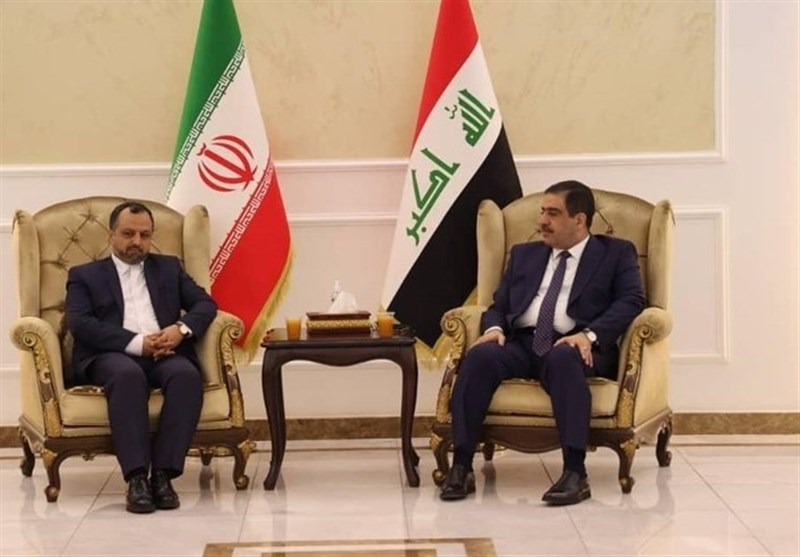 TEHRAN (Tasnim) – Highlighting the role of the Iran-Iraq Joint Commission in the removal of trade barriers between the two countries, the Iranian minister of economy said that Tehran and Baghdad will witness the considerable growth in bilateral trade next year (to start March 21, 2023).
The two countries enjoy high potential to expand their trade and economic activities, Seyed Ehsan Khandouzi stated.
Speaking in a joint meeting with the Iraqi Minister of Trade Atheer Daoud Al-Ghurairy in Baghdad, Khandouzi reemphasized the high capacities of the two countries in boosting the value of mutual trade.
The two nations share abundant commonalities in various fields, he said, adding that the joint commission is one of the most important tools for the realization of the will of the two countries to remove the barriers to the enhancement of trade ties.
Turning to the pragmatic approach in joint commission meetings, the economy minister added that constructive agreements were made in the five editions of the Iran-Iraq Joint Economic Commission meetings.
The Iraqi minister of trade, for his turn, hailed the unflinching efforts of all members of the joint commission and said, "It is hoped to make maximum efforts in implementation of the approvals at the end of the 5th joint commission meeting between Iran and Iraq."
Later in the day, Iran and Iraq signed joint memoranda of understanding (MoUs) to boost bilateral ties in the fields of transportation, trade, energy, electricity, gas, water and banking-financial transactions.
Speaking in a joint news conference with the Iraqi minister of trade in Baghdad , Khandouzi said that Iranian and Iraqi officials reached an agreement to bolster their cooperation in various fields of transportation, trade, energy, electricity, gas and water as well as banking and financial interactions.
The cultural and economic interactions between Iran and Iraq is very positive and constructive, he said, adding that the two countries have established longstanding and amicable ties, so that common cultural and religious issues have been the main factors behind the development of bilateral ties.
The Islamic Republic has used all its means and capacities for "Integrated Iraq", Khandouzi emphasized.
The 20-percent growth of trade between Iran and Iraq over the previous 11 months is a solid evidence for evermore growth of economic relations between Iran and Iraq, the economy minister pointed out.
Khandouzi also thanked the key role of neighboring Iraq in the regional talks.
The 5th round of the Iran-Iraq Joint Economic Commission meeting kicked off in Baghdad on Sunday, March 12, and will end on March 13.
The Iranian delegation includes representatives of the public and private sectors.