French Workers Clash with Police over Retirement Age Reform (+Video)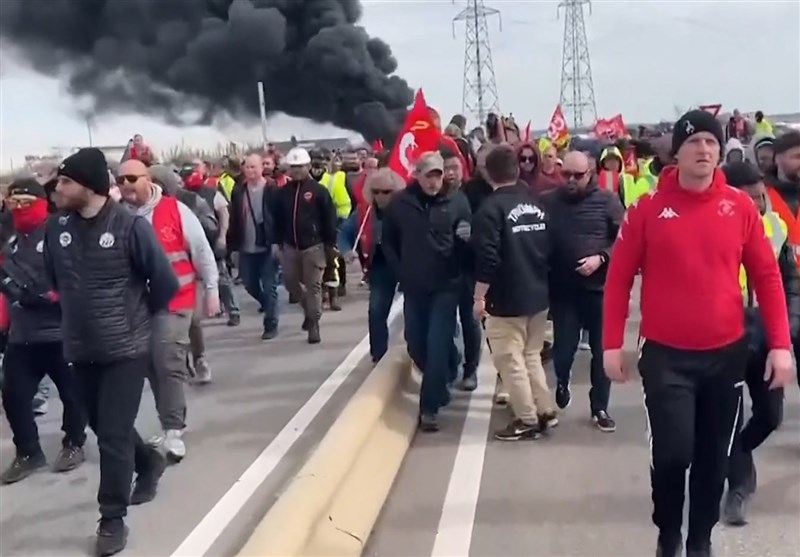 TEHRAN (Tasnim) – Protesters clashed with riot police outside an oil depot in Fos-Sur-Mer, France, as tensions over the government's pension reform plans continued to mount.
Tear gas was used to disperse the demonstrators who were there as part of a nationwide strike over plans to raise the retirement age from 62 to 64.
Demonstrators in Paris also took to the streets and marched to Bastille Square, where fires burned and activists smashed glass at a bus stop and an ATM machine. Over 100 people were reportedly detained in the capital.
The French government narrowly survived two no-confidence motions on Monday, one by just nine votes, after it used executive powers to pass the pension reforms without a vote in the National Assembly last Thursday. Despite the unpopularity of the bill and persistent protests, the government claims the reform is necessary to ensure the long-term affordability of the pension system.
On Wednesday, protesters continued to take to the streets, with police firing tear gas canisters and flash-bang grenades to disperse the crowds. One protester expressed concern over the heavy police presence: "One policeman per street, not even one policeman, three policemen per street. It's actually starting to look scary. All that is missing is that Macron declares to take into account article 16 of the constitution, that's good, it will be the apocalypse. We are very afraid of that."
French President Emmanuel Macron aims to implement new reforms in the coming weeks, following his government's narrow survival of a no-confidence vote. Demonstrations are expected to continue in the coming days and weeks.