Israeli Planes Launches Massive Attack on Gaza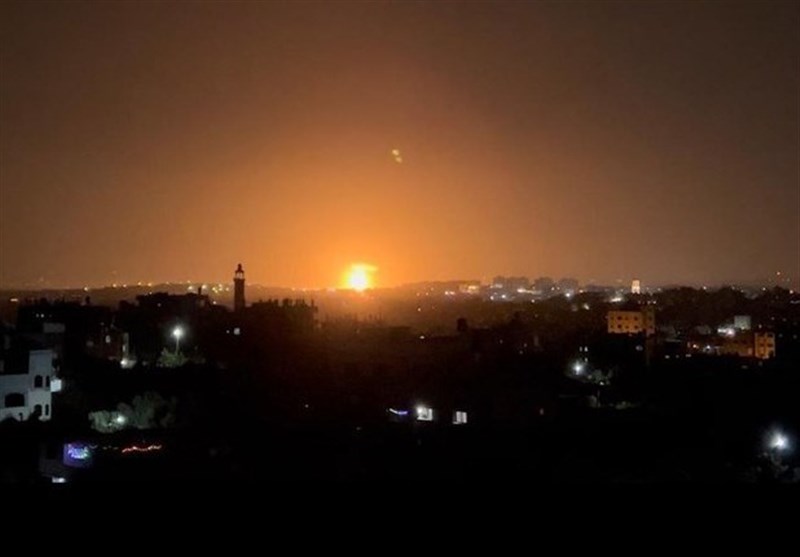 TEHRAN (Tasnim) - Israeli regime's warplanes began bombing Gaza in the early hours of Friday, after Prime Minister Benjamin Netanyahu blamed the Palestinian resistance group Hamas for Thursday's rocket attack from Lebanese territory.
Israeli military tweeted at 12:21 am local time that the regime forces are "currently striking in Gaza,".
Palestinian media outlets reported that Hamas air defenses have been activated. There were no reports of casualties so far. Videos shared on social media showed explosions lighting up the night.
No one took responsibility for the attack, but the Israeli military blamed Hamas resistance group in Gaza.
Israeli media called the attack the most serious escalation since 2006, when Israel attempted to dislodge Hezbollah from southern Lebanon. That war is widely considered a Hezbollah victory.
According to local media, Hamas and Hezbollah have placed their long-range rockets on high alert, and may strike occupied territories in response to the Israeli military bombing.
All Israeli military personnel were reportedly recalled from leave and the units near the border with Lebanon placed on high alert on Thursday.
Media outlets in Tel Aviv have speculated that a strike on Gaza was certain, while another operation in Lebanon was highly likely.
Earlier this week, Israeli police attacked and arrested hundreds of Palestinians at the al-Aqsa mosque, disrupting services during the holy month of Ramadan. Some Palestinians had flocked to the mosque after reports that Israeli settlers stormed the religious compound.
Previous clashes at al-Aqsa, in May 2021, triggered an 11-day conflict between Israel and Palestinian resistance groups. It eventually ended in a ceasefire mediated by Egypt.
Just last week, Netanyahu faced mass protests organized by the liberal opposition, which called for his resignation over the proposed overhaul of Israel's supreme court.