Palestinians Denounce Israeli Regime's Provocative Incursions into al-Aqsa Mosque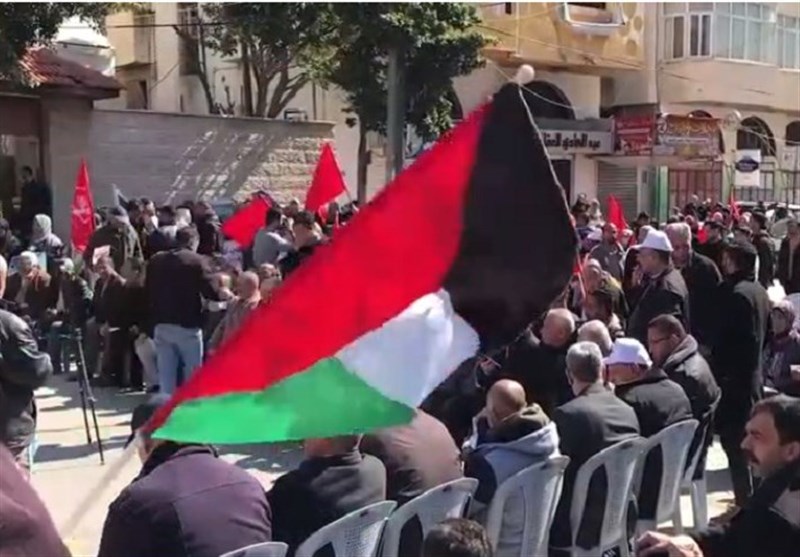 TEHRAN (Tasnim) – A demonstration was held in the besieged Gaza Strip in protest against provocative incursions by Israeli extremist groups to the al-Aqsa Mosque compound in the occupied al-Quds.
Palestinian media said the protesters, led by a number of the leaders of the resistance movement Hamas, took part in the demonstration in Khan Yunis, south of the Gaza Strip, after Friday prayers in condemnation of the nonstop Israeli storming of the holy site.
The participants raised banners that read, "Al-Aqsa Mosque is a red line," and called for Palestinian support and defense against the Israeli acts of intrusion.
"Palestinian people continue their struggle with all tools to defend al-Aqsa and its identity and protect our Islamic and Christian sanctities," said Zakariya Abu Muammar, a member of Hamas's political bureau, in the rally.
"This turnout and unity of our people in Jerusalem (al-Quds), the West Bank and the cities of the occupied territories is capable of thwarting all the plans of the occupation," he added.
The march came days after Israel's hardline minister Itamar Ben-Gvir visited the compound and claimed that Israel was "in charge" amid months of escalating tension and violence.
Ben-Gvir entered the holy site of al-Aqsa Mosque through the Moroccan Gate on Sunday, with the provocative causing a deluge of condemnations from across the Arab and Muslim world.
Hardline Israeli legislators and extremist settlers regularly storm the al-Aqsa Mosque compound in the occupied city, a desecratory move that infuriates Palestinians. Such mass settler break-ins almost always take place at the behest of Tel Aviv-backed temple groups and under the auspices of the Israeli police in al-Quds.
The al-Aqsa Mosque compound, which sits just above the Western Wall plaza, houses both the Dome of the Rock and the al-Aqsa Mosque.
The Israeli regime enables the Jewish visitation of al-Aqsa despite the fact that an agreement signed between Israel and the Jordanian government in the wake of Israel's occupation of East al-Quds in 1967 prohibits non-Muslim worship at the compound.
In another development on Friday, the European Union announced that it was appalled by the Israeli settlers' recent attacks against Palestinians in the villages of Burqa and al-Mughayyer in the occupied West Bank city of Ramallah, which resulted in injuries and the destruction of Palestinian homes.
"UN data shows a trend of increasing and more violent settler attacks against Palestinians in the oPt," the EU said in a tweet, referring to the occupied Palestinian territories.
The bloc also condemned settler violence and called on Israel to take decisive steps to ensure accountability and protect the Palestinian civilian population in line with its obligations under international law.