US Navy Releases Video of Close-Call Interaction with Chinese Warship in Taiwan Strait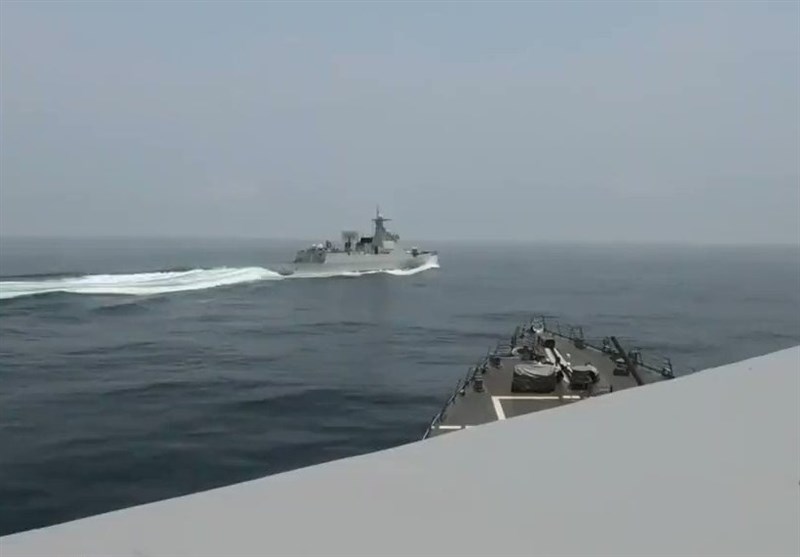 TEHRAN (Tasnim) - The US Navy released a video showing an "unsafe interaction" between a Chinese warship and a US destroyer in the sensitive Taiwan Strait region.
The video captures the moment when the Chinese warship crossed in front of the USS Chung-Hoon, coming within 150 yards (137 meters) of the American vessel.
In the footage, released by the US Navy late Sunday, the Chinese warship can be seen sailing across the path of the USS Chung-Hoon, which maintains its course. An English voice is heard issuing a warning against any attempts to restrict freedom of navigation. China's military criticized the joint sailing by the United States and Canada, accusing them of deliberately provoking risk.
China's Foreign Ministry Spokesman Wang Wenbin defended the actions of the Chinese navy, stating that they were legitimate, lawful, safe, and professional responses to the US's provocative actions. Chinese State Councilor and Defense Minister Li Shangfu also emphasized that tensions across the Taiwan Strait are fueled by external forces and "Taiwan independence" separatist movements.
During a speech at a forum, US Defense Secretary Lloyd Austin expressed opposition to unilateral changes in the status quo of the Taiwan Strait. The US and Canadian naval vessels, USS Chung-Hoon and HMCS Montreal respectively, passed through the Taiwan Strait on Saturday, closely monitored by the Chinese military.
Senior Colonel Shi Yi, a spokesman for the People's Liberation Army's Eastern Theater Command, condemned the US and Canada for deliberately causing trouble and risks in the Taiwan Strait. He accused them of undermining regional peace and stability while sending wrong signals to "Taiwan independence" forces.
China's Defense Minister Li reiterated the importance of the Taiwan question, stating that reunification is an unstoppable historical trend. He emphasized that any attempt to challenge the one-China principle is both absurd and dangerous. Li underscored China's commitment to peaceful reunification but made no promises to renounce the use of force if Taiwan were to seek separation.
Beijing has been increasing military and political pressure on Taiwan, including regular maneuvers near the island, in an attempt to assert its sovereignty.
The situation in the Taiwan Strait remains highly volatile as tensions persist between China and the United States over issues of territorial integrity and regional security.