Landmark Skyscraper in Khartoum Engulfed in Flames amid Army-Rival Forces' Clashes
September, 18, 2023 - 13:22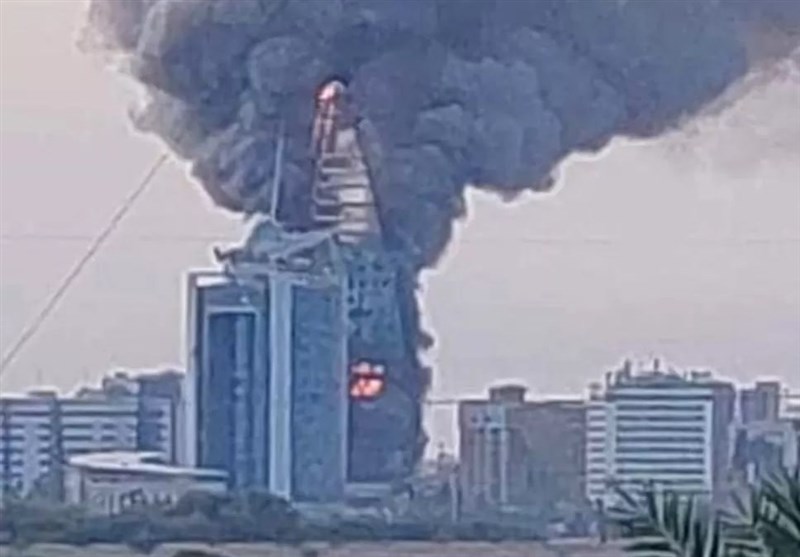 TEHRAN (Tasnim) – Sudan's capital witnessed a landmark skyscraper engulfed in flames following intense clashes between the army and rival factions.
Videos circulating online on Sunday portrayed the iconic Greater Nile Petroleum Oil Company Tower ablaze.
Witnesses also reported flames consuming the Sudanese capital on Sunday, accompanied by a second-day attack by paramilitary forces on the army headquarters, as the relentless fighting extended into its sixth month, according to the Guardian.
"Clashes are now happening around the army headquarters with various types of weapons," disclosed a Khartoum resident who wished to remain anonymous.
Residents in southern Khartoum also recounted hearing "huge bangs" as the regular army targeted bases of the Rapid Support Forces (RSF) paramilitaries with artillery.
Witnesses additionally noted fighting in El-Obeid, located 350km (about 220 miles) to the south.
Nawal Mohammed, aged 44, described the battles on Saturday and Sunday between the regular army and the paramilitaries as "the most violent since the war began." Although her family resides at least 3km away from the nearest clashes, Mohammed stated that "doors and windows shook" from the force of explosions, while several buildings in central Khartoum were set ablaze.
Verified social media posts shared by Agence France-Presse showed footage of flames engulfing iconic structures in the Khartoum skyline, including the Ministry of Justice and the Greater Nile Petroleum Oil Company tower – a conical building with glass facades that had become a city emblem. Other posts depicted buildings with blown-out windows, charred walls, or pockmarked by bullets, left smoldering.
"It's distressing to see these institutions destroyed like this," remarked Badr al-Din Babiker, a resident of the capital's east.
Since the war erupted on April 15 between army chief Abdel Fattah al-Burhan and his former deputy, RSF commander Mohamed Hamdan Daglo, nearly 7,500 people have been killed, according to a conservative estimate from the Armed Conflict Location and Event Data Project. Civilians and aid workers have warned that the real toll is far higher, as many of those injured or killed never make it to hospitals or morgues.
A committee of volunteer pro-democracy lawyers announced on Sunday that the fighting in Khartoum since Friday had killed dozens of civilians in "continued disregard for international humanitarian law." They stated, "We are working to determine the number of civilian victims" of "arbitrary shelling."
The war in Sudan has devastated an already fragile infrastructure, shuttering 80% of the country's hospitals and plunging millions into acute hunger. Over 5 million people have been displaced, including 2.8 million who fled the relentless airstrikes, artillery fire, and street battles in Khartoum's densely populated neighborhoods. Millions who could not or refused to leave Khartoum remain in the city, where water, food, and electricity are rationed.
The violence has also spread to the western region of Darfur, where ethnically motivated attacks by the RSF and allied militias have prompted renewed investigations by the International Criminal Court into possible war crimes. Fighting has also occurred in the southern Kordofan region, where witnesses on Sunday again reported artillery fire exchanged between the army and the RSF in El-Obeid.