Iran Pushing for Road Map to Cooperation with Hungary
September, 23, 2023 - 11:56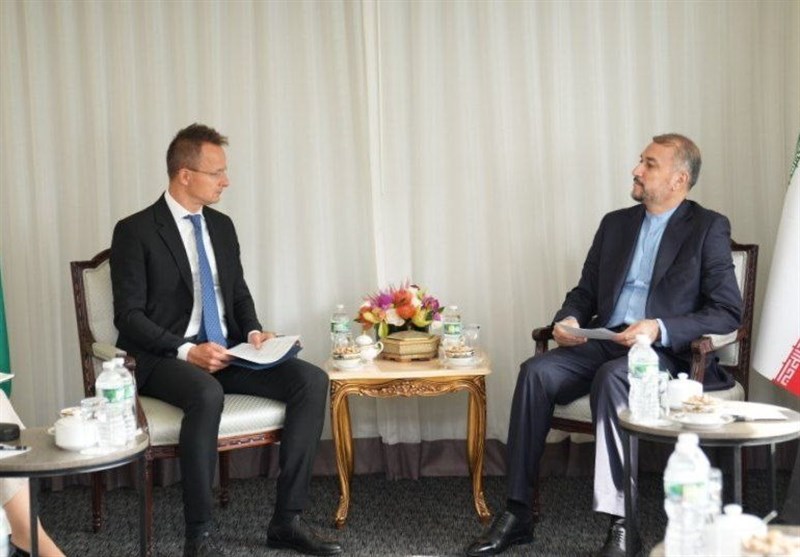 TEHRAN (Tasnim) – The foreign minister of Iran stressed the need to finalize a road map to cooperation with Hungary, highlighting the grounds for interaction between the Iranian and Hungarian companies in the energy industry.
The top Iranian diplomat held a meeting with Hungary's Foreign and Trade Minister Peter Siarto on the sidelines of the UN General Assembly in New York on Friday.
Expressing satisfaction with the arrangements for a joint economic commission with Hungary in the near future, Amirabdollahian described it as an important step toward boosting constructive cooperation between the two countries in economic and commercial fields.
He emphasized that Iran and Hungary need to finalize a road map to their future ties.
"We have a positive assessment of the cooperation between Iranian and Hungarian companies, especially in the field of energy," Amirabdollahian stated.
He noted that given the existing capacities of the two countries, Iran and Hungary can have stronger cooperation and the upcoming meeting of their joint economic commission will provide a good opportunity for this purpose.
Amirabdollahian then reaffirmed Iran's opposition to the war in Ukraine and outlined Iran's principled policy in this regard.
The Hungarian minister, for his part, expressed pleasure with the growing trend of cooperation between the two countries in different areas. He said Hungary is ready to hold a session of the economic cooperation commission and sign bilateral agreements aimed at facilitating bilateral cooperation.
He further described the progress in the ties between Iran and Saudi Arabia as encouraging and voiced pleasure with the prisoner swap between Iran and the US.