Assad Says War on Syria Continues amid Blockade
September, 30, 2023 - 11:12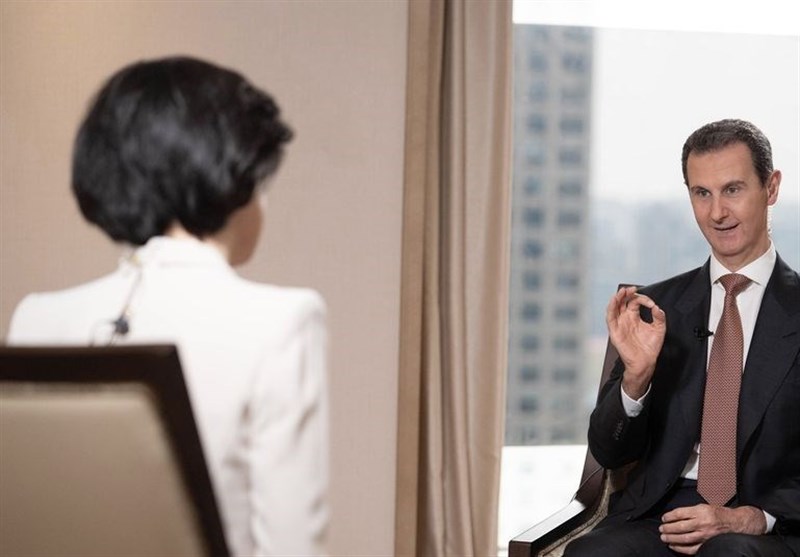 TEHRAN (Tasnim) – Syrian President Bashar al-Assad said the war on Syria remains ongoing until the blockade is lifted.
He believes that only when the blockade is over can the Syrian people begin rebuilding their nation.
Assad also expressed concerns about the influence of modern Western liberalism, originating from the US, and the threat of extremism in the region.
In an interview with China Central Television (CCTV), the Syrian president commended China for its unwavering political support within international forums, such as the United Nations Security Council (UNSC), SANA reported.
Addressing the situation in northeastern Syria, President al-Assad highlighted that the region is occupied by both terrorists and American forces. He described it as more than just theft, emphasizing that it represents a troubling partnership for a superpower to have with terrorists. This partnership has led to significant losses in oil and wheat production, undermining the region's basic necessities.
Regarding the prospect of reconstructing Syria, President al-Assad expressed optimism. He pointed to Syria's strong economic growth before the war, with growth rates reaching close to 7%, despite limited resources. Syria was not a debtor nation and had a surplus of wheat while exporting fruits and vegetables. President al-Assad firmly believes that ending the war and initiating reconstruction efforts will lead to a significantly improved Syria.
Reflecting on his visit to China 19 years ago, Assad marveled at China's transformation from being known as the "world's merchandise factory" to becoming a hub of innovation and creativity.
President al-Assad also called for joint projects and knowledge exchange between Syria and China, particularly in industrial and economic endeavors. He cited similarities between China's past conditions and those of many Third World countries, and stressed the importance of social and value concepts in the development process.
Lastly, the Syrian president recognized the Belt and Road Initiative as a crucial global development initiative, emphasizing the need for institutions to collaborate and form a network to turn these global initiatives into reality.