Iranian, Egyptian FMs Confer on Bilateral Relations, Regional Developments
TEHRAN (Tasnim) – Regional developments, political transitional era in Egypt, were topics of today's phone talk between Iran's Foreign Minister Ali Akbar Salehi and his Egyptian counterpart Nabil Fahmy.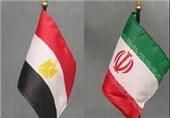 During the conversation, Salehi expressed the hope that Iran and Egypt would soon be able to discuss issues of mutual concern, including the Palestinian issue and seek a political solution to the crisis in Syria.
Iranian foreign minister also expressed optimism that Egypt will resolve the ongoing crisis through convergence among the Egyptian people.
Stressing Egypt's key role in Middle East, the Iranian top diplomat asked for the continuation of both sides' efforts for the normalization of the two key regional powers' relations.
Fahmy, for his part, expressed satisfaction with the conversations held between Iran and Egypt so far, and said, "We hope we can exchange views, as soon as possible, on issues of mutual interest and important regional matters in an appropriate opportunity."
In 2007, relations between the two countries thawed in the fields of diplomacy and economic trade, with the exception of difference of opinion during the 2008–2009 Israel–Gaza conflict.
It was not until the official resignation of president Hosni Mubarak in February 2011 that relations started to improve significantly.
Soon after now embattled President Mohamed Mursi visited Iran in August 2012.