Supreme Leader Endorses Iran's New President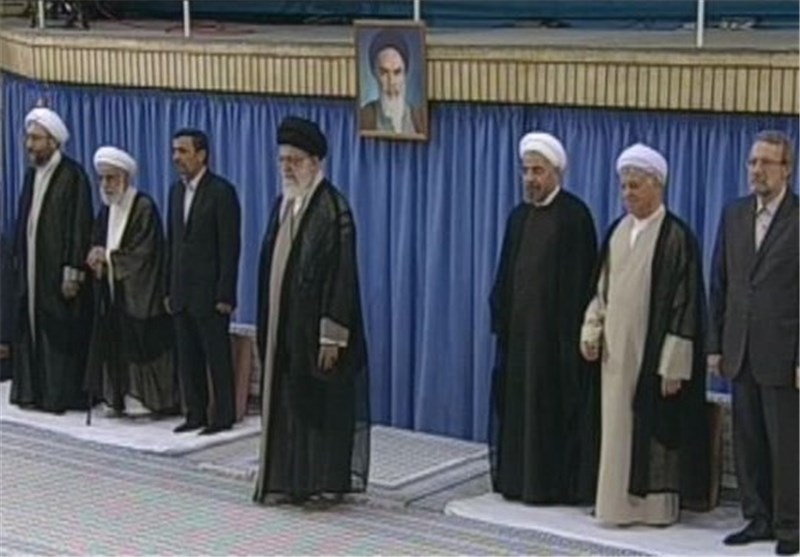 TEHRAN (Tasnim) - Supreme Leader of the Islamic Revolution Ayatollah Seyed Ali Khamenei on Saturday endorsed Hassan Rouhani as Iran's new president.
In a ceremony to mark the official start of Rouhani's first term in office here in Tehran today, Ayatollah Khamenei endorsed Rouhani's presidency.
Based on Article 110 of Iran's Constitution the President has to receive the Leader's approval.
Heads of the three branches of the government, secretary of the Guardian Council, former President Akbar Hashemi Rafsanjani, and a number of members of the Assembly of Experts and the Parliament, the Cabinet and foreign ambassadors in Tehran attended the ceremony.
Rouhani will be sworn in as President in a separate ceremony due to be in the Iranian Parliament on Sunday.
Meantime, senior foreign leaders and officials are arriving in the Iranian capital city to attend the swearing-in ceremony of Iran's new President Hassan Rouhani.
On Wednesday, Iranian Foreign Ministry Spokesman Seyed Abbas Araqchi had told Tasnim that high-ranking officials from more than 50 countries, including 10 presidents will attend Rouhani's swearing-in ceremony.
The Iranian official also said that presidents of Kazakhstan, Lebanon, Pakistan, Afghanistan, Sudan, and Iraq are scheduled to attend the ceremony.
Some other guests, Araqchi said, will include Russia's State Duma Speaker Sergei Naryshkin, Syrian Prime Minister Wael al-Halqi, former Malaysian Prime Minister Mahathir Mohamed, and former European Union Foreign Policy Chief Javier Solana.