Deaths Reported in Fresh Cairo Clashes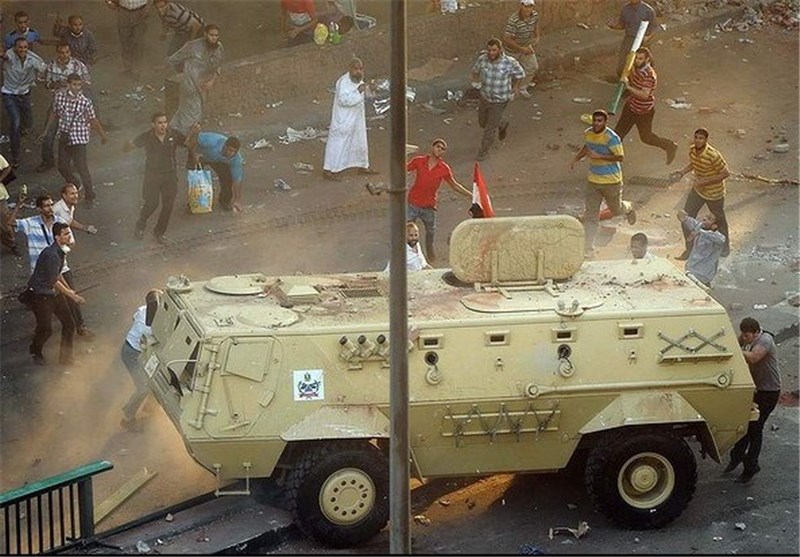 TEHRAN (Tasnim) - A policeman and 12 protesters are reportedly dead after more clashes broke out in Egypt.
State media said the officer died following an armed attack on a checkpoint in capital Cairo, where the army had been deployed to guard "important and vital facilities" - and are authorized to use live ammunition.
AFP said four protesters were killed during battles with security forces in the Suez Canal city of Ismailiya, while Reuters quotes medical sources as saying eight were killed in Damietta - around 120 miles from the capital
It comes after hundreds were killed in a crackdown by security forces on supporters of ousted president Mohammed Mursi.
Meanwhile, thousands of pro-Mursi supporters are marching from north-east Cairo towards the city's centre, chanting "down with military rule", Sky News reported.
Barbed wire, armored personnel carriers and armed soldiers were seen blocking an entrance to Tahrir Square, next to the Egyptian Museum, as well as side streets in downtown Cairo.
Clashes have also broken out between security forces and Mursi loyalists in the north of the country.
Islamist group the Muslim Brotherhood, who back the deposed leader, had earlier issued calls for a nationwide "day of anger" by millions of supporters following Wednesday's deadly clashes.
"Despite the pain and sorrow over the loss of our martyrs, the latest coup makers' crime has increased our determination to end them," it said in a statement.