Shabaab Claims Twin Blasts in Somalia
TEHRAN (Tasnim) - At least 18 people were killed in the Somali capital Mogadishu on Saturday when two blasts ripped through a busy parking lot next to a restaurant, police said, in attacks quickly claimed by al-Shabaab fighters.
September, 08, 2013 - 14:06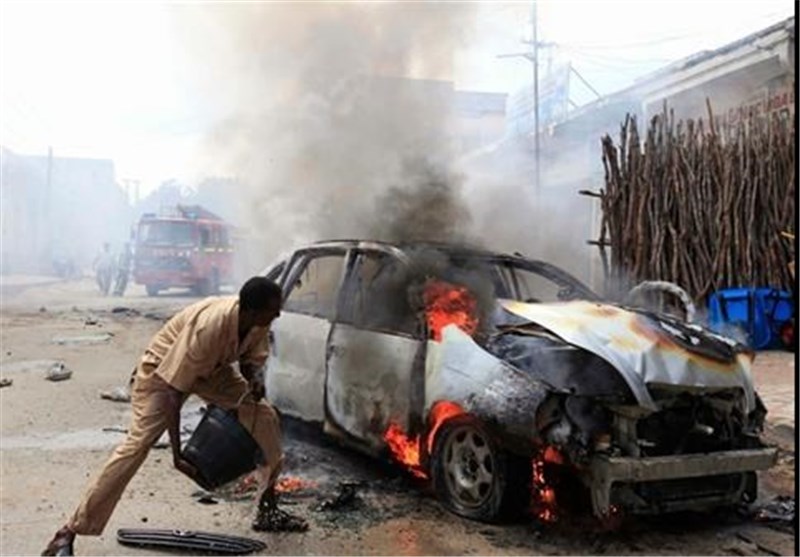 "There were two heavy explosions at a parking lot near the National Theatre," police officer Mohamed Adan told AFP.
"At least 18 people were killed in the attack," said Mohamed Dahir, another police officer. An AFP reporter saw 12 bodies at the scene of the attack.
"Successful operations carried out in Hamarweyne," al-Shabaab said on their Somali-language Twitter feed, referring to the Mogadishu district where the attacks occurred. The group'sEnglish-language account has been suspended.
The al-Qaeda-linked fighters claimed to have killed "key officials", but witnesses said the casualties they had seen looked like ordinary civilians.
Police and witnesses said the first blast was a car laden with explosives that was parked by the Village, a restaurant close to the theatre that was targeted by suicide bombers in September 2012.
The second blast, which followed minutes later, was a "suicide bomber who blew himself up in the crowd of civilians who rushed to the scene of the first blast", Ahmed Weli Said, a Somali government security official said.
Somalia's embattled government, selected in November in a UN-backed process, was hailed at the time by the international community as offering the best chance for peace in Somalia since the collapse of the central government in 1991.
A 17 700-strong African Union force fighting alongside the national army has forced al-Shabaab fighters from several towns in the past two years.