Putin: Syria Chem Arms Handover Will Work Only If US Calls Off Strike
September, 11, 2013 - 11:12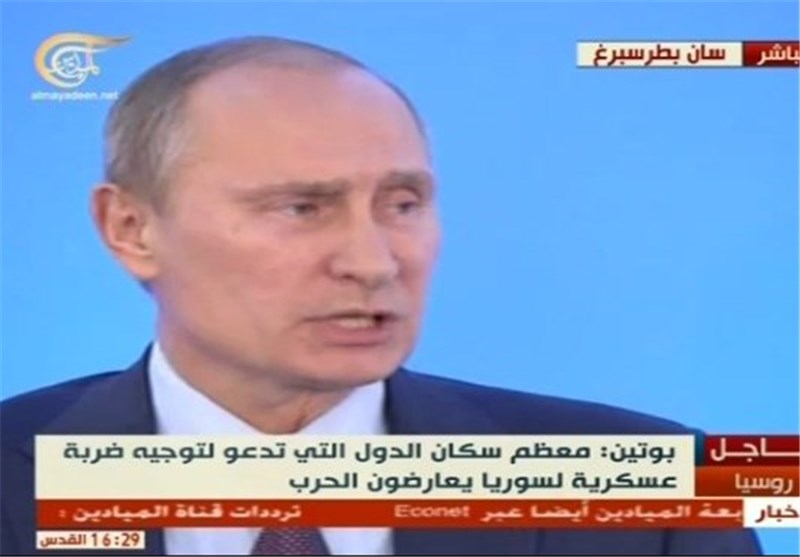 TEHRAN (Tasnim) - Russian President Vladimir Putin said that Syria's chemical arms handover will only work if the US and its allies renounce the use of force against Damascus.
"Of course, all of this will only mean anything if the United States and other nations supporting it tell us that they're giving up their plan to use force against Syria. You can't really ask Syria, or any other country, to disarm unilaterally while military action against it is being contemplated," President Putin said on Tuesday.
President Putin said that the matter of bringing Syria's chemical weapons under international control has long been a subject of discussion by experts and politicians.
Putin confirmed that he and President Barack Obama had "indeed discussed" such a possibility on the sidelines of the G20 summit in St. Petersburg last week.
It was agreed, Putin said, "to instruct Secretary of State (John Kerry) and Foreign Minister (Sergei Lavrov) to work together and see if they can achieve some progress in this regard."
President Putin's comments came shortly after the Syrian government said it would agree to place its chemical weapons arsenal under international control, RT reported.
On Tuesday, Britain, France and the US said they would table a resolution on Syrian chemical weapons to the UN Security Council later in the day.
An emergency closed-door meeting at the Security Council is scheduled to take place at 4:00pm EST (2000 GMT), the UN press office said.