Leader Hopeful about US Seriousness in New Attitude towards Syria
TEHRAN (Tasnim) – Supreme Leader of the Islamic Revolution Ayatollah Seyed Ali Khamenei said he hopes that the US is "serious" in its new attitude towards Syria, but at the same time stressed that Iran is closely monitoring the developments in the region.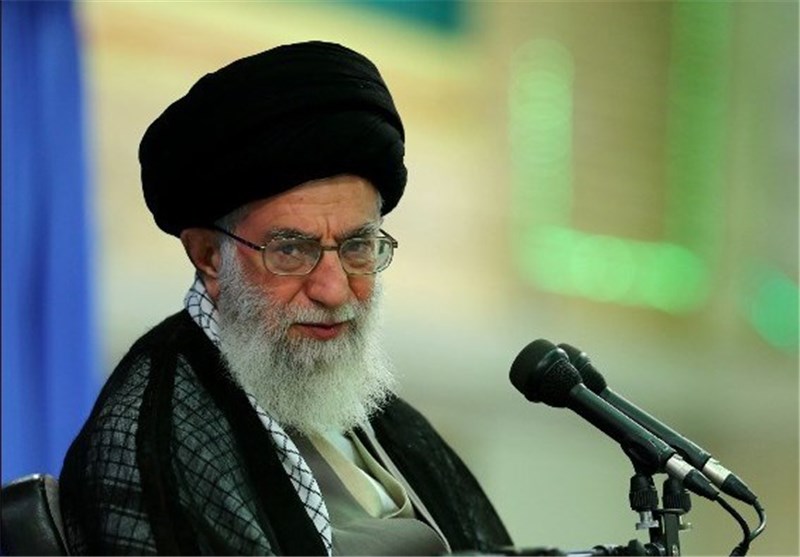 "We hope that the new US attitude towards Syria is serious and free from deception," Ayatollah Khamenei said, addressing a group of Iranian Hajj officials here in Tehran on Wednesday.
The Leader added that if true, the new approach means the US retreated from "the arbitrary and wrong approach" it has adopted in the recent weeks.
Ayatollah Khamenei, however, underlined Iran's close watch on the recent developments, and reiterated, "The Islamic Republic of Iran is carefully and vigilantly monitoring the events in the region."
The Leader further denounced the enemies of the Islamic world for trying to stoke sectarian tension in Muslim countries, which has resulted in the death of hundreds of people, and said, "The hegemonic powers and superpowers, especially the US, feel no compunction about destroying countries and killing human beings to reach their unlawful interests."
"They (the Americans) are ready to ignite fire and trample the interests of other countries and nations for their so-called national interests, which are actually those of the Zionists and capitalists."
This comes as the US president on Tuesday asked Congress to postpone a vote on military action in Syria as diplomacy is pursued to resolve the chemical weapons crisis in Syria.
Obama spoke of the Russian proposal to put Syria's chemical weapons under international control as one of the reasons he was delaying a "limited strike" on Syria.
"It's too early to tell whether this offer will succeed, and any agreement must verify that the Assad regime keeps its commitments, but this initiative has the potential to remove the threat of chemical weapons without the use of force, particularly because Russia is one of Assad's strongest allies," Obama said.
Russia proposed placing Syria's chemical weapons under international monitoring and eventually destroying them if all parties agree to denounce military action. China and Iran have welcomed the idea.
Meantime, Syria said it would sign the Chemical Weapons Convention, following Russia's proposal that it hands over its chemical weapons to international supervisors.
"We fully support Russia's initiative concerning chemical weapons in Syria, and we are ready to cooperate. As a part of the plan, we intend to join the Chemical Weapons Convention," Syrian Foreign Minister Walid Muallem said in an interview with Lebanon-based Al-Mayadeen TV.
"We are ready to fulfill our obligations in compliance with this treaty, including through the provision of information about our chemical weapons," he stated.
"We will open our storage sites, and cease production. We are ready to open these facilities to Russia, other countries and the United Nations."