21 Dead as Big Storms Hit Mexico on Opposite Coasts
TEHRAN (Tasnim) - The remnants of Tropical Storm Manuel continued to deluge Mexico's southwestern Pacific shoulder with dangerous rains while Hurricane Ingrid headed for a Monday landfall on the country's opposite coast.
September, 16, 2013 - 11:49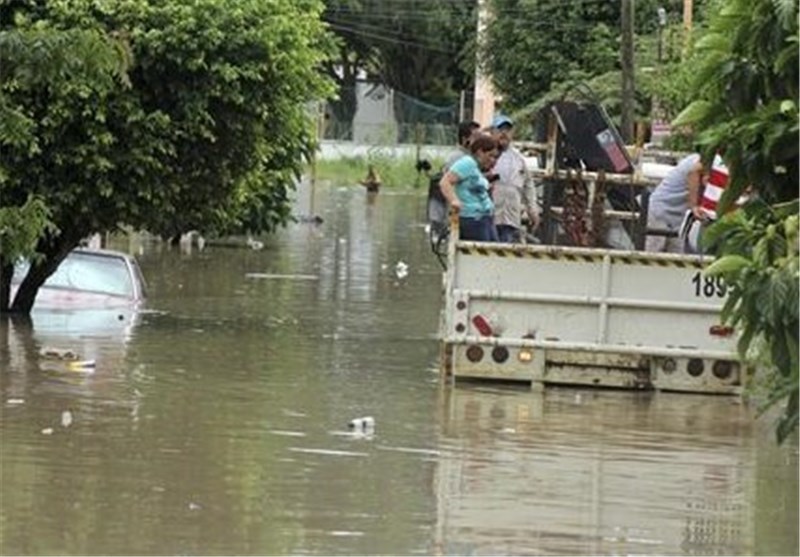 The heaviest blow Sunday fell on the southern coastal state of Guerrero, where Mexico's government reported 14 confirmed deaths. State officials said people had been killed in landslides, drownings in a swollen river and a truck crash on a rain-slickened mountain highway.
Mexico's federal Civil Protection coordinator, Luis Felipe Puente, told reporters late Sunday that stormy weather from one or both of the two systems also caused three deaths in Hidalgo, three in Puebla and one in Oaxaca, AP reported.
Getting hit by a tropical storm and a hurricane at the same time "is completely atypical" for Mexico, Juan Manuel Caballero, coordinator of the country's National Weather Service, said at a news conference with Puente.
The US National Hurricane Center said Ingrid, the second hurricane of the Atlantic storm season, could reach the mainland by Monday morning, most likely along the lightly populated coast north of the port of Tampico.
Authorities in the Gulf states of Tamaulipas and Veracruz evacuated more than 7,000 people from low-lying areas as the hurricane closed in, and the prospect of severe weather prompted some communities to cancel Independence Day celebrations planned for Sunday and Monday.
Manuel came ashore as a tropical storm Sunday afternoon near the Pacific port of Manzanillo, but quickly began losing strength and was downgraded to a tropical depression late Sunday, although officials warned its rains could still cause flash floods and mudslides. The US National Hurricane Center predicted the system would dissipate Monday.
The rains caused some rivers to overflow in Guerrero, damaging hundreds of homes and disrupting communications for several hours.