UN Report: Chemical Weapons Used in Syria on 'Large Scale'
TEHRAN (Tasnim) - Chemical weapons were used on a relatively large scale in the Ghouta area of Damascus in Aug.21 attack, the UN investigators' report said.
September, 17, 2013 - 10:08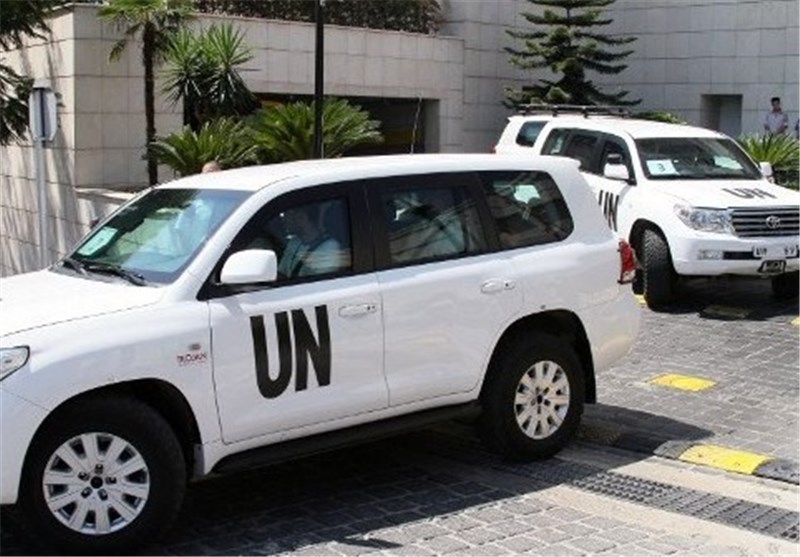 UN Secretary General Ban Ki-moon has submitted report at a closed-door meeting in New York, RT reported.
"The Mission has concluded that chemical weapons were used on a relatively large scale in the Ghouta area of Damascus in the context of the ongoing conflict in Syria. The attack resulted in numerous casualties, particularly among civilians," Ban Ki-moon said in a statement published on the UN website.
The UN Secretary General said the conclusions drawn in the report are "overwhelming and indisputable".
"The facts speak for themselves," he added.
Ban called the attack in Ghouta "the most significant confirmed use of chemical weapons against civilians since Saddam Hussein used them in Halabja in 1988."
The UN team's report is based on interviews and eyewitnesses' accounts which investigators collected at the scene.
The UN investigators spoke to more than 50 survivors, medical personnel and first responders. They also recorded individuals' symptoms and took biomedical samples, including from hair, urine and blood.
Local medical staff documented many patients' symptoms consistent with nerve agent exposure. A number were "were diagnosed with intoxification" and "clearly showed symptoms associated with sarin, including loss of consciousness, shortness of breath, blurred vision, eye inflammation, vomiting and seizures," the report said.
All the samples the UN collected were examined at four laboratories designated by the Organization for the Prohibition of Chemical Weapons (OPCW), the report said.
It has been revealed that 85 percent of the blood samples tested positive for sarin. The UN team said that almost all of the 36 patients who showed signs of poisoning tested positive for sarin.
Environmental samples also revealed the use of sarin, the UN scientists said. "A majority of the rockets or rocket fragments recovered were found to be carrying sarin."
The UN mission concluded that there was "clear and convincing evidence that surface-to-surface rockets containing the nerve agent sarin were used in the Ein Tarma, Moadamiyah and Zamalka [neighborhoods] in the Ghouta area of Damascus."