Leader Calls on IRGC to Keep Abreast of Developments, Events
TEHRAN (Tasnim) - Supreme Leader of the Islamic Revolution called on the Islamic Revolution Guards Corps (IRGC) to keep abreast of the ongoing developments in all fields in order to safeguard the revolution against the hegemonic powers and their affiliates.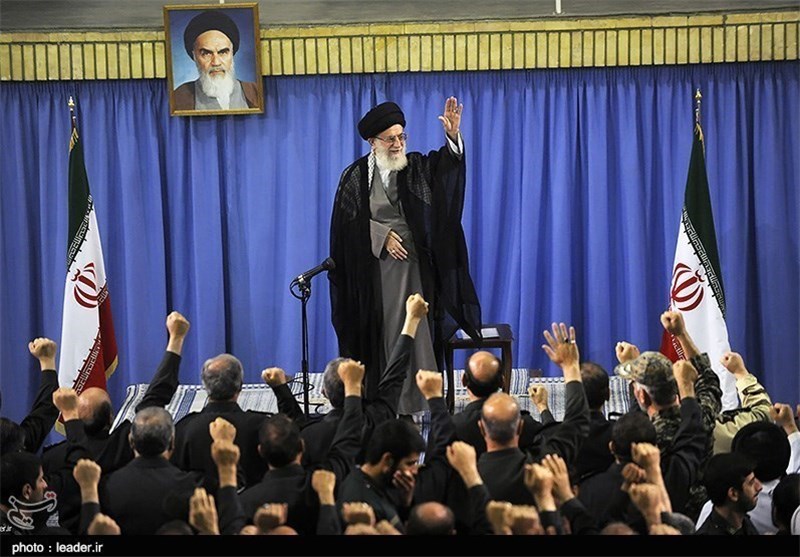 "To protect the (Islamic) revolution, the IRGC must have sufficient and complete knowledge of the developments and streams of different arenas," Ayatollah Seyed Ali Khamenei stated in a meeting of the IRGC commanders and veterans here in Tehran on Tuesday.
The Leader said safeguarding the Islamic Revolution requires detailed knowledge of realities.
Ayatollah Khamenei further pointed to the ongoing plots against the Iranian nation, and said, "The hegemony system and its affiliates pursue the triple major policies of sparking wars, creating poverty and spreading corruption and Islam is opposed to all these policies, and this opposition is the basis for their challange with the (Islamic) revolution."
He went on to say that the enemies' antagonism towards the Iranian nation over the past 34 years originates from the same basic challenge, and added, "The nuclear issue should also be evaluated from this perspective."
"We reject nuclear weapons not for the sake of the US, but because of our convictions, and when we say no one should have such weapons, definitely we ourselves are not after them," the Leader added.
"Of course these few countries do not want to see their monopoly on nuclear energy break up, but the fuss they are making is not because of this issue," Ayatollah Khamenei said, adding that the controversial approach of the US and some western countries towards Iran's nuclear program should be viewed in the framework of the serious confrontation between the hegemony system and the Islamic Revolution.
The United States and some of its allies have repeatedly accused Iran of pursuing non-civilian objectives in its nuclear energy program.
Iran rejects the allegation, arguing that as a committed signatory to the Non-Proliferation Treaty (NPT) and a member of the IAEA, it has the right to use nuclear technology for peaceful purposes.
In addition, the IAEA has conducted numerous inspections of Iran's nuclear facilities but has never found any evidence showing that the Iranian nuclear program has been diverted toward non-civilian objectives.