Commander: IRGC's Deterrent Capability Extends to Whole Region
TEHRAN (Tasnim) – The Islamic Revolution Guards Corps has upgraded and renovated its military and defense capabilities proportionate to the scope of the enemies' vital interests, the IRGC commander said, adding that any point in the region is now within the range of his forces' deterrent power.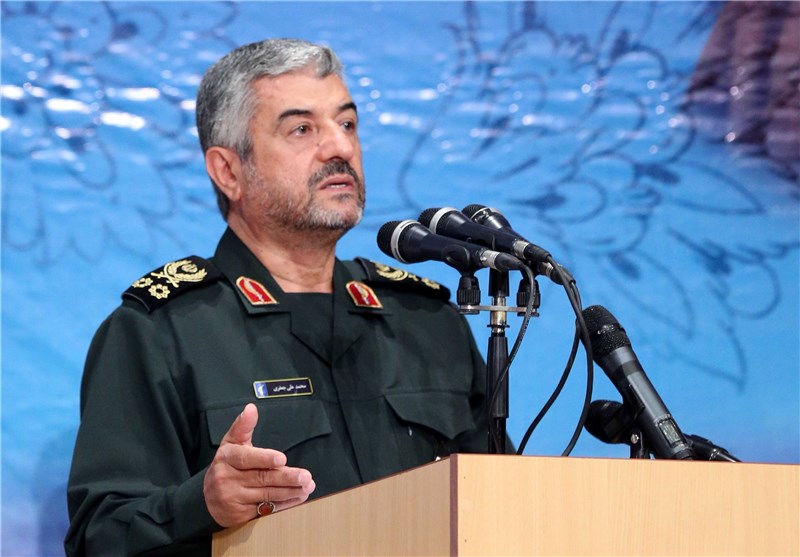 "Thanks God, the IRGC has renovated, upgraded and changed its deterrent and all-out defensive power as well as its direct and indirect combat capacity and capabilities proportionate to the extent of the enemies' vital interests," Major General Mohammad Ali Jafari said, addressing IRGC commanders and officials on Wednesday.
"And now" the commander said "with God permission, any point in the region, if deemed necessary, will be within the reach of the deterrent power of the Islamic World's IRGC and Basij (volunteer) Force."
He further pointed to the capabilities of different units of the IRGC, saying his forces are going to achieve the dynamic intelligence warfare capacity.
Jafari stated that aerospace division of the IRGC is now opening ways towards space in a bid to challenge enemies' monopoly in space, and stressed that the IRGC's drones, air defense units, radars and missiles have already broken enemies' monopoly in those fields.
The Iranian commander further said the IRGC Navy, too, gained a reassuring power to defend Iran's vital interests in the sea, specially in ensuring security of the Persian Gulf and transfer of energy from the region to other parts of the world.
Jafari also said that the IRGC's Ground Force plays a vital role in promoting Iran's deterrent power.