President: Iran's Armed Forces not after War, Aggression
September, 22, 2013 - 11:28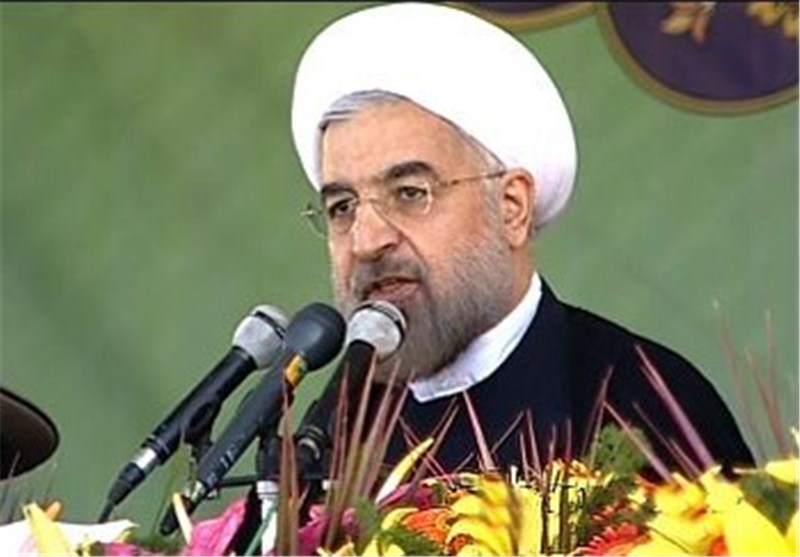 TEHRAN (Tasnim) – Iranian president said Sunday that the Iranian nation and Armed Forces are not after war, aggression or threatening others, but emphasized that they will firmly defend the territorial integrity of the country and give a crushing response to any aggression.
Addressing a gathering of the country's armed forces on the first day of the Sacred Defense Week and before their parade on the occasion, President Hassan Rouhani said that in reviewing the records of the eight-year defense (against Iraqi aggressors), our enemies would realize that this nation and its armed forces are neither warmongers, nor aggressors nor after occupation of the others' lands.
"But meanwhile, the Iranian nation and their armed forces would not hesitate when they encounter the aggressive moves of the occupiers, and would defend their country's independence and pride, their revolution, and their (political) system wholeheartedly," President Rouhani added.
The president also stressed that during the "thirty-plus -year" life of the Islamic Republic, there has been no instance of military rule or government in the country, which is a source of pride for the Iranian armed forces.
He added that the regional countries from North Africa to Asia and the Middle East must take lessons of democracy from the Iranian armed forces, saying, "Our country is a revolutionary country whose political system belongs to its nation and is needless of waging wars, or aggressions. And our regional influence is cultural and (extended) through dialogue."
The opening ceremony of the Sacred Defense Week started on Sunday at the mausoleum of the late founder of the Islamic Republic, Imam Khomeini, south of the capital, Tehran.
The latest military and defensive achievements of the country's Armed Forces will be put on display during the parade, which is attended by various units of the Iranian Army, the Islamic Revolution Guards Corps, Basij (volunteer) forces and the Islamic Republic of Iran Police.
In Iran, the 1980-1988 Iran-Iraq war is known as the Sacred Defense, and Sacred Defense Week is held on the anniversary of the beginning of the war. Sacred Defense Week begins on Shahrivar 31 in the Iranian calendar (September 22 this year), which is the day Iraq invaded Iran and began the imposed war on the country in 1980.