Zarif Holds Talks with British Foreign Secretary in New York
TEHRAN (Tasnim) – Iran's Foreign Minister Mohammad Javad Zarif met with his British counterpart in New York where they discussed Iran's nuclear energy program, bilateral relations and regional developments, including the situation in Syria and Afghanistan.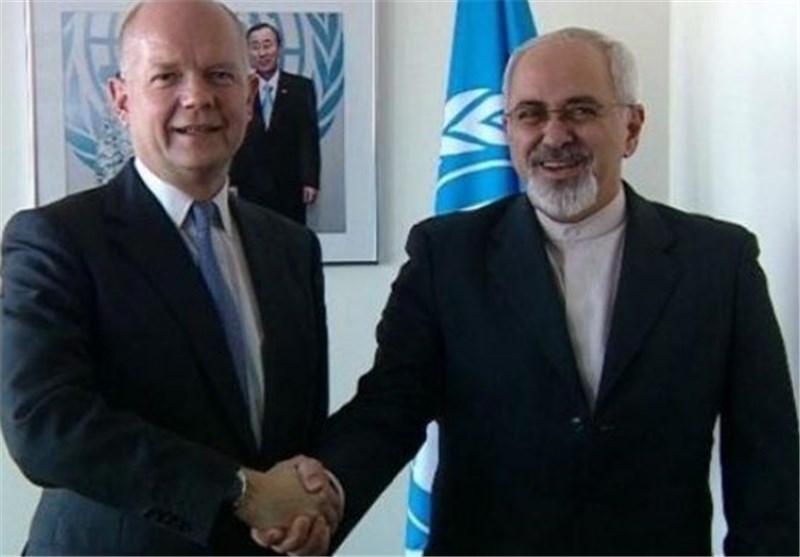 During the meeting Zarif censured the illegal sanctions imposed on Iran, saying they have failed to achieve their pre-determined objectives and are actually only targeted at the Iranian people.
"The West needs to take a new look at the matters," he stressed.
The two top diplomats stressed the need for the improvement of Tehran-London ties on a "step-by-step" basis.
The British Foreign Secretary William Hague for his part said that London does not seek a confrontational relationship with Iran and is open to better relations.
He added, "The United Kingdom welcomes President Rouhani and Foreign Minister Zarif's recent statements about Iran's wish to improve its relations with the outside world."
Hague also said he "was pleased" to meet Zarif, and underlined the need for progress on Iran's nuclear issue.
Iranian Foreign Minister Mohammad Javad Zarif Zarif, who is also the country's chief nuclear negotiator, will on Thursday meet foreign ministers from the five permanent UN Security Council members - Britain, China, France, Russia and the US - and also Germany (the Group of 5+1).
The agreement was made during a meeting in New York on Monday between Zarif and European Union foreign policy chief Catherine Ashton who leads diplomatic efforts to resolve the decade-old nuclear dispute on behalf of the G5+1.
The American sources have confirmed that Kerry will be in the meeting.
Ashton told the reporters in New York that she saw "energy and determination" for talks with the major powers.
Ashton also said she and her team will meet with Zarif again in October to follow up on Thursday's meeting to continue their discussion on reviving long-stalled negotiations.