Iran, Fiji Call for Expansion of Bilateral Ties
TEHRAN (Tasnim) – Iran's president said in a meeting with Fijian premier on the sideline of the UN annual meeting that the two countries have great potentials to improve bilateral tie, especially in the tourism sector, which can be utilized in the interests of both sides.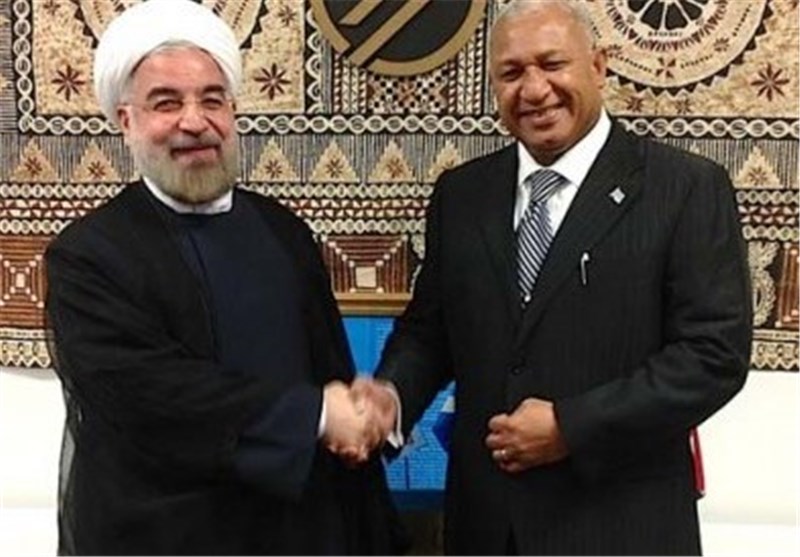 President Rouhani highlighted the significance of the two countries' relations in his meeting with Fijian Prime Minister Josaia V. Bainimarama, and announced the Islamic Republic's readiness to expand friendly relations with that country, especially in the tourism sector.
The Iranian president referred to the role of Fiji in the Group of 77 and said in the current world conditions, groups such as G77 and the Non-Aligned Movement can have a constructive role to play in ensuring peace and stability across the world.
The Fijian prime minister, too, referred to his country's peacemaking humanitarian efforts aimed at establishment of peace and stability in the region and expressed hope that such efforts would bear fruit in collaboration with other peace loving nations, like Iran.
The G77 provides the means for the developing countries to articulate and promote their collective economic interests and enhance their joint negotiating capacity on all major international economic issues within the United Nations system, while actively promoting South-South cooperation for development.
The group was founded in 1964 by seventy-seven countries, but the organization has since expanded to 132 member countries, with the Republic of Fiji its current chair.