Egypt Anti-Coup Rally Held in Cairo
October, 02, 2013 - 11:33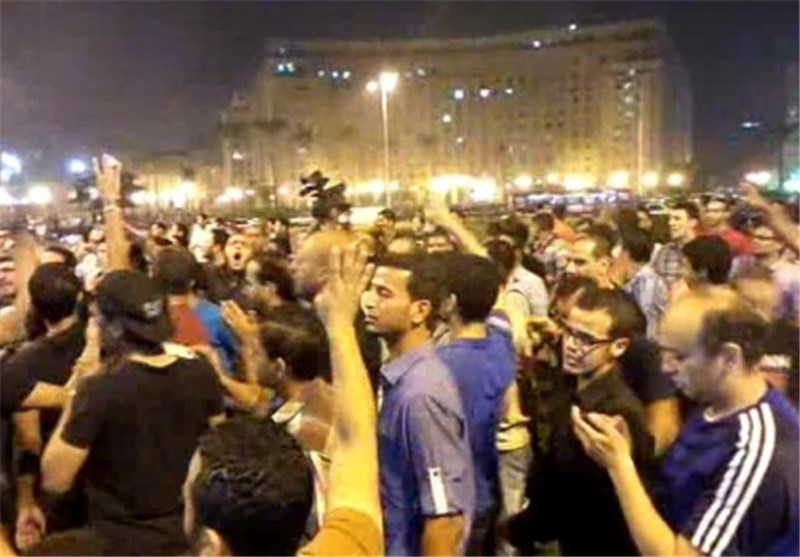 TEHRAN (Tasnim) – Gathering marks first anti-military protest in Cairo's iconic Tahrir Square since overthrow of President Mohamed Mursi in July.
Anti-military protesters demonstrated in Cairo's Tahrir Square for the first time since the army forced Mursi from office in July following mass protests against his leadership.
Around 100 protesters gathered in the square on Tuesday, chanting "down with military rule!" Limited skirmishes erupted between the protesters and local residents and street vendors when the anti-coup march reached the square.
Police arrived at the scene to separate the two parties from each other. No injuries were reported.
Al Jazeera's correspondent in Cairo, who is not being named for security reasons, said that the protest was "symbolic and significant", since the demonstrators had never previously tried to go to the site of the famous protests that led to the toppling of both former presidents Hosni Mubarak and Mursi.
Protests against the military, led by supporters of Mursi's Muslim Brotherhood, have been held in cities across Egypt since the military seized power on July 3.
Tuesday's demonstration came as Egyptian army chief Abdel Fattah el-Sisi called for a quick political transition to restore stability after he directed the overthrow of Mursi and installed an interim government.
Speaking to soldiers and policemen at a seminar, Sisi called on everyone "to be truly aware of the size of the problems facing society, and which necessitate speeding up the end of the transitional phase", the army spokesman's official Facebook page said.
Foreign Minister Nabil Fahmy said last week the transitional phase of government should end "by next spring".