Rouhani: Iran's Nuclear Rights not Negotiable
TEHRAN (Tasnim) – Iran will never consider its nuclear principles and rights a negotiable issues, President Hassan Rouhani stressed.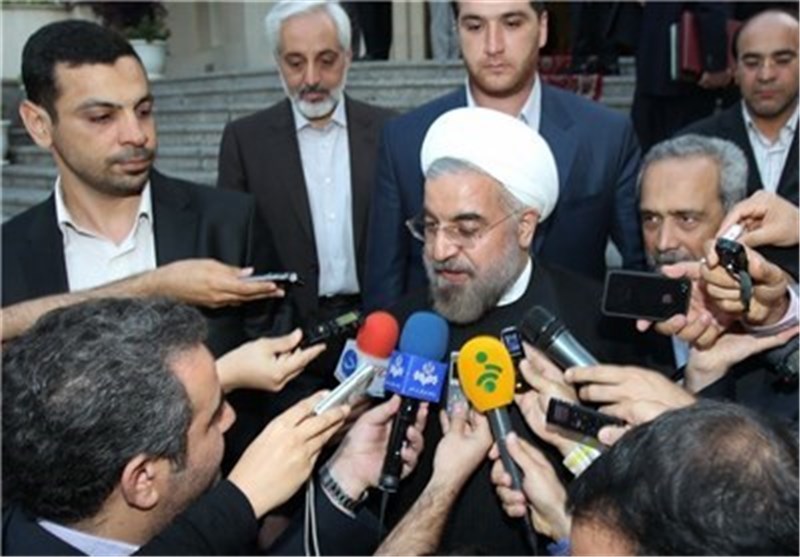 "We will enter talks about details, but we do not regard the nuclear principles and rights as negotiable at all," the Iranian president said on the sidelines of the cabinet's weekly session here in Tehran on Wednesday.
Rouhani also pointed to a recent meeting between Iran and the six world powers at foreign minister level in New York, and said, "In this meeting, almost all the 6 countries somehow conceded Iran's nuclear rights."
Foreign ministers of Iran and the Group 5+1 (five permanent members of the UN Security Council plus Germany) held a meeting on the sidelines of the 68th United Nations General Assembly in New York on September 26.
The meeting which was hosted by EU Foreign Policy Chief Catherine Ashton, and attended by seven foreign ministers, marked the highest-level, direct contact between the US and Iran in many years as the US secretary of state, John Kerry, came face-to-face with the Iranian foreign minister.
"Therefore" President Rouhani added "we took one step forward, and the next step is that we pursue a discussion about the details of the issues."
The next round of nuclear talks between Iran and the western countries is due to take place on October 15 and 16 in Geneva.
The Iranian president further reaffirmed that the basics of nuclear technology and uranium enrichment inside the country are not negotiable, but added that Tehran is ready to fully cooperate with the International Atomic Energy Agency (IAEA) inspectors.
"Our principles are that we have left the doors of nuclear sites open to the (International Atomic Energy) agency, and they can oversee," Rouhani added.
In relevant remarks on September 29, Iranian Foreign Minister Mohammad Javad Zarif said that Iran has never been after nuclear technology for military purposes and stressed that its right to enrich uranium was "non-negotiable."
"Negotiations are on the table to discuss various aspects of Iran's enrichment program. Our right to enrich is non-negotiable," Zarif said in an interview with ABC's "This Week" program.
"We do not need military-grade uranium. That is a certainty and we will not move in that direction. But what is necessary is for the two sides to sit together and reach a common objective," added Zarif, who is also the country's top nuclear negotiator.