Cleric: US Proves Insincere by Waging War Rhetoric against Iran
October, 04, 2013 - 15:45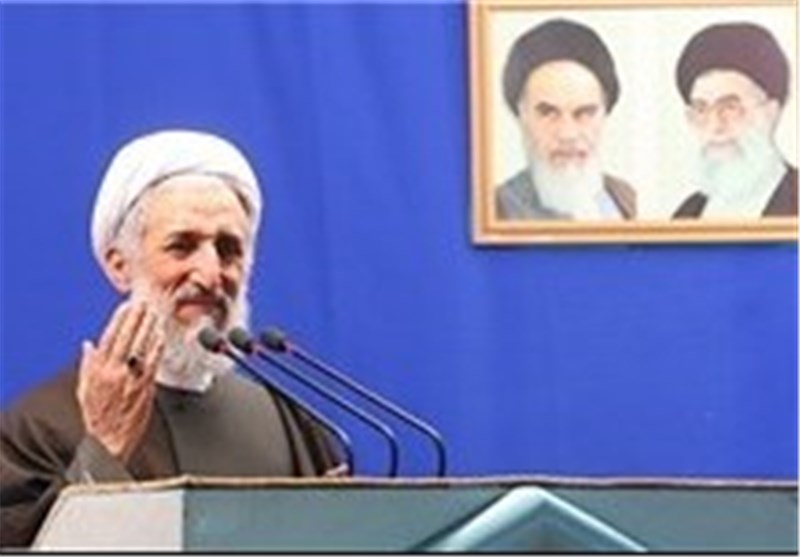 TEHRAN (Tasnim) – A top Iranian cleric strongly criticized US President Barack Obama for talking about military option against Iran despite an earlier telephone conversation with President Hassan Rouhani, and stated that such a move reveals Washington's insincerity.
"The fact that the US president, after the telephone conversation (with President Rouhani), says the military option is still on the table or that they (Americans) say the negotiation is an outcome of sanctions, reveals their insincerity," Tehran's Provisional Friday Prayers Leader Hojjatoleslam Kazem Seddiqi said, addressing a large congregation of Iranian people in Tehran University today.
His remarks came after US President Obama, in a meeting with Israeli Prime Minister Benjamin Netanyahu on Monday, announced that all options against Iran were on the table.
"It is absolutely clear that words are not sufficient," Obama told Netanyahu at the Oval Office. "We take no options off the table, including military options."
Obama, however, had made the comments a few days after he had talked with Iranian President Hassan Rouhani over the phone as the Iranian official was on his way to leave New York City after the United Nations General Assembly.
The Iranian cleric further praised president for his powerful speech at the UN General Assembly, noting that in his address in New York President Rouhani could very well condemn and explain the "illegal and cruel sanctions" imposed against Iran .
Last week, during his speech to the world body, President Rouhani encouraged the entire countries, international organizations, and civil foundations to organize new efforts aimed at leading the world towards peace and security.
He underlined that instead of the incompetent coalition for war in different parts of the world we need to concentrate on coalition for sustainable peace, throughout the world.
"Today the Islamic Republic of Iran is calling on you and on the entire international community to take a step forward; inviting the mankind against aggression and extremism…" said President Rouhani.