Pro-Mursi Alliance Urges Protesters to Avoid Cairo's Tahrir
TEHRAN (Tasnim) - National Alliance to Support Legitimacy called on its supporters to avoid Cairo's Tahrir Square and other roundabouts to avoid clashes.
October, 11, 2013 - 16:04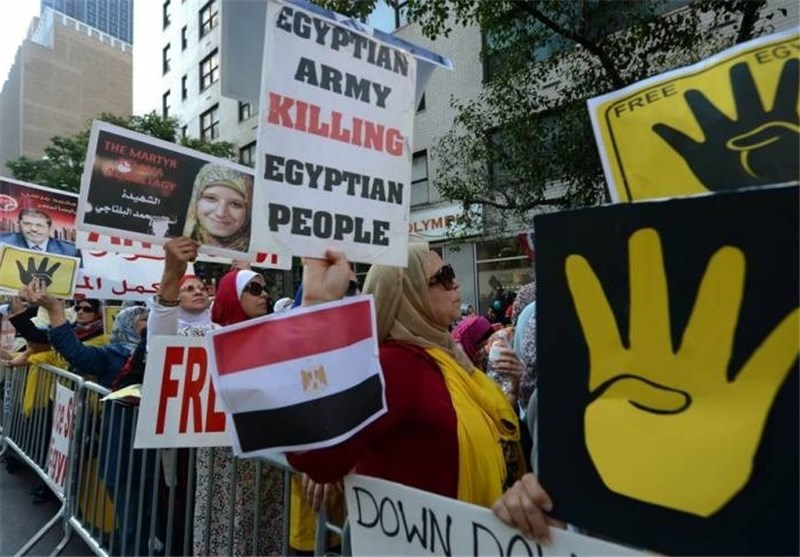 National Alliance to Support Legitimacy announced it will not lead protests to Cairo's Tahrir Square on Friday to avoid bloodshed, following Sunday's violent clashes that left 57 dead during pro-Mursi marches to the iconic square.
In a statement released late Thursday, the alliance hailed the October 6 protests that headed towards Tahrir Square, the epicentre of the 2011 uprising, and Rabaa Al-Adawiya Mosque in Cairo's middle class Nasr City district, where the largest pro-Mursi sit-in was staged before it was dispersed in mid-August.
The pro-Mursi coalition had said earlier that it responded to the calls from the youth to keep trying to go to Tahrir Square on Friday. However, the coalition later called on its supporters to "avoid squares that would lead to more bloodshed."
"The alliance is calling on Friday's marches to avoid these places, whether Tahrir Square or else," the statement read, Ahram Online reported.
"Egyptians still have the right to protest at these places in the coming weeks," the statement added.
Security forces blocked entrance to Tahrir Square and Rabaa Al-Adawiya, among other roundabouts, on Fridays to avoid another possible sit-in. They often clash with Islamist protesters supporting deposed president Mohamed Mursi and demonstrating against the military.
Several marches sought to head to Tahrir Square last Sunday, which marked the 40th anniversary of the war against Israel, but were prevented by security personnel and civilian opponents. The ensuing melee left 57 dead.