Obama Pressures Republicans to Raise Debt Ceiling, End Shutdown
October, 12, 2013 - 16:05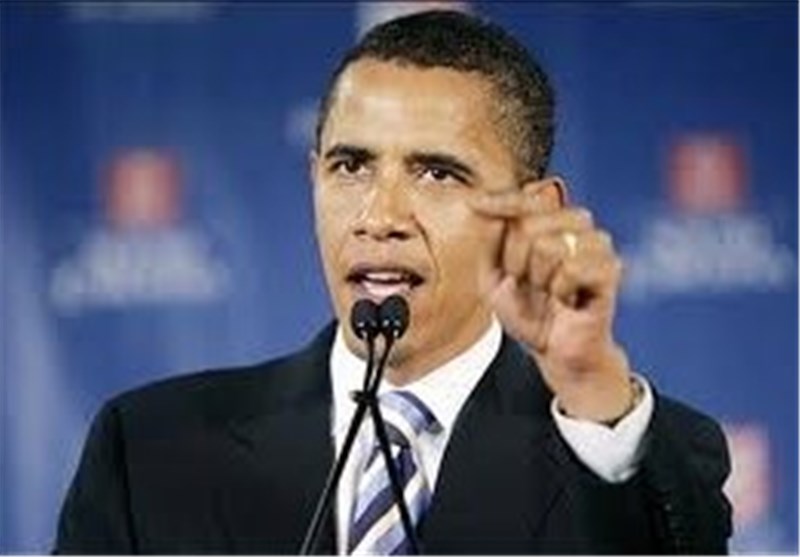 TEHRAN (Tasnim) - President Barack Obama pressured Republican lawmakers on Saturday to agree to raise the US debt ceiling for longer than they would prefer
The budget battle between Obama and Republicans who control the House of Representatives has idled hundreds of thousands of government workers hit by a 12-day government shutdown and put the United States at risk of a historic debt default, possibly by next Thursday, unless the borrowing limit is raised.
With the potential of an economic calamity looming, Obama and his Republican opponents are trying to agree on how long to extend the debt ceiling, with Republicans wanting to limit the extension to six weeks to try force more concessions out of the president.
Obama made clear in his weekly address Saturday that he wants a longer debt ceiling extension to get the US economy through the holiday shopping season without a convulsive shock. Republicans want a commitment to broader deficit-reduction talks from the White House, Reuters reported.
"It wouldn't be wise, as some suggest, to kick the debt ceiling can down the road for a couple of months, and flirt with a first-ever intentional default right in the middle of the holiday shopping season," Obama said.
While Obama's talks with House Republicans on Thursday and Senate Republicans on Friday were seen as a constructive sign of progress, there appears to be still a ways to go and many details to iron out before a deal can be clinched.
North Dakota Republican Senator John Hoeven said there are enough ideas being discussed to get to an agreement, but the key now is finding the right combination of them that can pass both the House and Democratic-controlled Senate.
Republicans have been knocked on their heels by polls showing Americans largely blame them for triggering the crisis, a political dynamic that has strengthened Obama's hand. The president has been unyielding in his insistence that he will not negotiate over the debt ceiling.
Obama told Americans that his Republican opponents are manufacturing a crisis that has the potential for damaging the US credit rating and causing global markets to go haywire.