Iran Prevailed in Face of Enemy Plots, Says IRGC Commander
TEHRAN (Tasnim) - Commander of the Islamic Revolution Guards Corps said Iran has been able to hold a strong position in the world despite the hostile measures taken by enemies of the country, Israel in particular.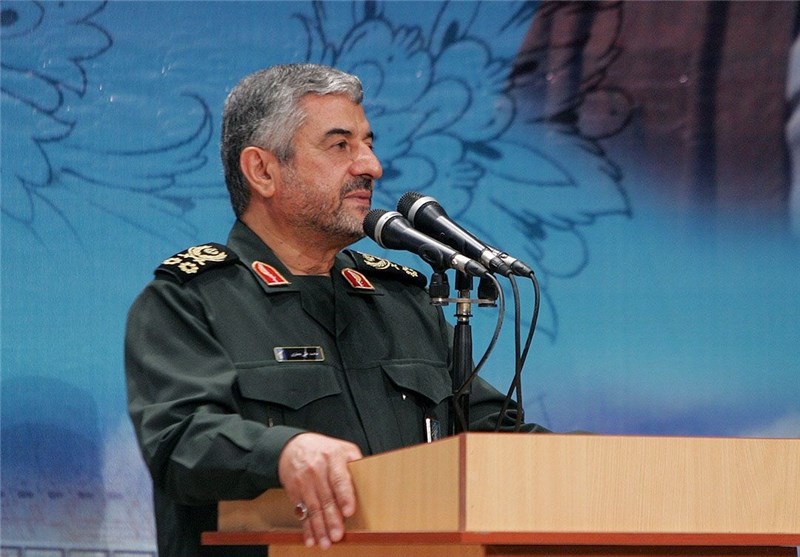 In spite of the enmity of those who are opposed to Islam, especially the hostile moves by the Zionist regime of Israel, the Islamic Republic of Iran has made a great deal of headway, said IRGC Commander Major General Mohammad Ali Jafari in Iran's northeastern city of Bojnord, adding that the Islamic Iran has also succeeded to send its message to the entire world.
He further described the Islamic Revolution's most significant message as confrontation with cruelty, hegemony and the global arrogance, and above all "implementation of Islamic values" in the society.
In relevant remarks on September 25, Major General Jafari affirmed that the Iranian enemies have so far stooped to every plot to undermine security in the country, but that all their attempts have been in vain.
Iran is in the best condition in terms of security despite the fact that the enemies have resorted to every vicious plot to undermine security and cause security-related problems in the country, he said at the time.
Also on September 17, Supreme Leader of the Islamic Revolution Ayatollah Seyed Ali Khamenei voiced confidence that the Islamic Revolution will witness a "bright future" thanks to Iran's rapid scientific progress and continued efforts by the nation and government.
Addressing a group of IRGC commanders and veterans in Tehran, Ayatollah Khamenei lauded the great progress made by the country in different fields, including scientific, military, economic and management, saying such strides are evidence that the pressures exerted by enemies and their plots cannot hinder the nation's move on the path of progress.
"The Iranian nation is moving forward with logic and scientific calculation, but the enemy, due to its paradoxical internal structure, is in retreat and weakness even though it may refuse to acknowledge it," the Leader said.