Zarif, EU's Ashton Meet in Geneva Hours before New Round of Talks
TEHRAN (Tasnim) – Iranian Foreign Minister Mohammad Javad Zarif met with European Union foreign policy chief Catherine Ashton in Geneva on Monday evening, hours before the start of the new round of talks between Tehran and the six world powers over Iran's nuclear program.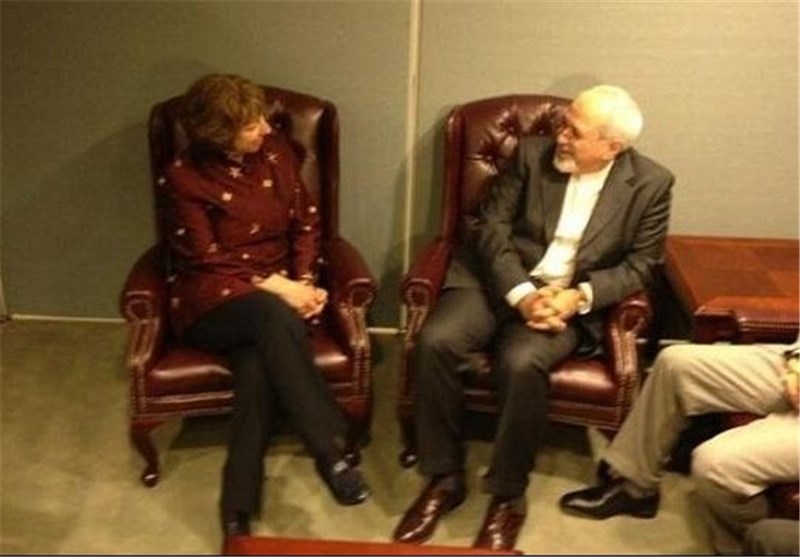 In a dinner banquet held in the Swiss city on the eve of the fresh round of talks between Iran and the Group5+1 (the five permanent UN Security Council members plus Germany), Zarif and Ashton discussed Tehran's package of proposals that is to be presented in Tuesday's negotiations.
Earlier, upon arrival in Geneva on Monday, the Iranian foreign minister had announced that Tehran has prepared its package of proposals, and the Iranian delegation is ready to "seriously study" solutions put forth by the other negotiating parties.
Zarif further said that his team will test the seriousness of the Group5+1 in the new round of talks.
"We are not pessimistic, but need to gauge the political resolve of the other side and we can reach a settlement in the near future. We hope an issue that has defied solution for years and the existing lack of trust would be overcome in the shortest possible time," said Zarif, who is also the country's lead nuclear negotiator.
"We believe that the existing problems can be resolved through a balanced approach and we will remove obstacles and take steps towards the restoration of our inalienable nuclear rights," Zarif said.
The Iranian team includes Deputy Foreign Minister for Euro-American Affairs Majid Takht Ravanchi, Deputy Foreign Minister for Legal and International Affairs Abbas Araqchi, Director General for International Political Affairs Hamid Baeedinejad, Legal Advisor to Foreign Minister Davoud Mohammadnia and Mohammad Amiri from the Atomic Energy Organization of Iran (AEOI).
The Iranian team is led by Zarif, although much of the negotiation is expected to be delegated to his deputy, Abbas Araqchi.