Iran Proposes Three-Step Plan in Geneva Talks
TEHRAN (Tasnim) – Tehran has presented a three-step plan that aims to bring the standoff over the Islamic Republic's peaceful nuclear program to an end, an Iranian top negotiator in Geneva nuclear talks announced, but added that details of the proposals are confidential.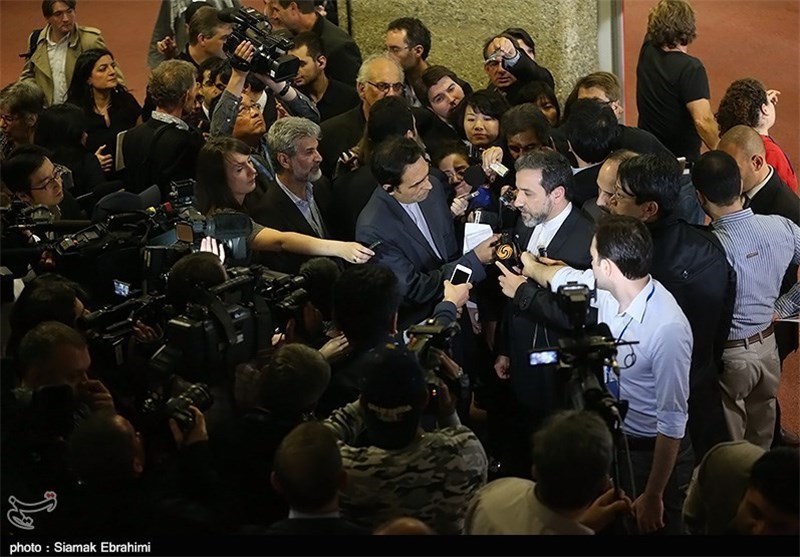 Iran's Deputy Foreign Minister for Legal and International Affairs Abbas Araqchi who now leads Iranian team of negotiators in the fresh round of talks between Iran and the six world powers, said in a press conference today that his country presented its three-step proposal during the first session of negotiations in Geneva.
The new round of talks on Tehran's nuclear program started between senior diplomats representing the Islamic Republic of Iran and the Group5+1 (the five permanent UN Security Council members plus Germany), at the Palais des Nations in Geneva earlier on Tuesday and is to continue tomorrow.
Iran began today's meeting with a one-hour PowerPoint presentation to diplomats from the G5+1 countries.
"Talks should be time-bound. The positive atmosphere and the reciprocating measures of both sides should continue, and the initial agreement should be achieved in the shortest possible time; the last step is a roadmap and timetable over which agreement needs to be reached quickly," said Iran's deputy foreign minister.
In his press conference, Araqchi declined to give any details about the plan's contents, but outlined the general features of the proposals as the following: First, using the Supreme Leader's fatwa as the most important step; second, commitment from the G5+1 to recognize Iran's right to enrich uranium and enjoy nuclear facilities, including research reactors; and third, peaceful nuclear cooperation between the two sides, transparency and supervision of the International Atomic Energy Agency (IAEA), and lifting all the anti-Iran sanctions imposed by the UN Security Council.
Araghchi said the Iranian plan's formal name was "An End to the Unnecessary Crisis and a Beginning for Fresh Horizons." He described it as having many new ideas but added negotiators had agreed to keep the details confidential during the morning bargaining session.
"We think that the proposal we have made has the capacity to make a breakthrough," he told reporters.
Supreme Leader of the Islamic Revolution Ayatollah Seyed Ali Khamenei has already issued a fatwa that strongly prohibits the development, production, stockpiling and use of nuclear weapons.
The deputy foreign minister had earlier said Iran's "logical, balanced and realistic" plan makes it possible for both sides to take the first step toward breaking the deadlock over Tehran's nuclear energy program.