Speaker: Foreign Relations Atmosphere Promising
October, 24, 2013 - 14:53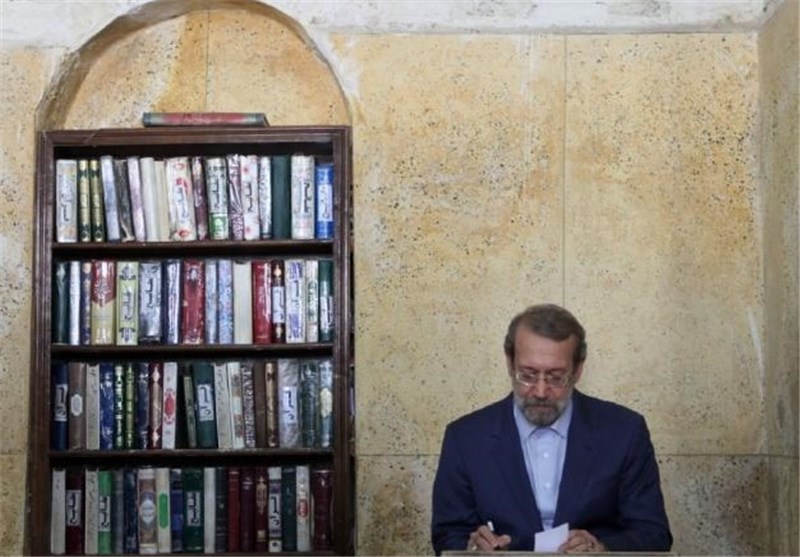 TEHRAN (Tasnim) – As Iran's new government has promised to engage constructively with the outside world to further the interests of the country, Parliament Speaker Ali Larijani on Thursday described the prevailing atmosphere in Iranian foreign relations as promising.
Larijani made the comment in a meeting with prominent Shiite cleric Ayatollah Nasser Makarem Shirazi in the city of Qom where he briefed the top-ranking cleric on his Geneva trip to attend the Inter-Parliamentary Union (IPU) Assembly.
"The Geneva visit was a good opportunity for meetings with heads of state, many of whom were willing to negotiate with Iranians and establish friendly relations," he said.
On the reason for this change of attitude towards Iran, Larijani said, "There were two factors that contributed to this shift, the first of which was the elections in Iran which created a positive atmosphere in the world in favor of the Islamic Republic and the second one was the realization (by western countries) that their anti-Iran analysis was not correct."
Larijani also appreciated efforts made by the country's diplomatic apparatus which, he said, have contributed to a promising atmosphere and caused other countries to test Iran's outreach.
On August 16, Iranian Foreign Ministry Spokesman Seyed Abbas Araqchi expressed confidence that the country's new administration will adopt a more proactive foreign policy to safeguard national security and interests.
"Our country's foreign policy will continue to move in line with serving the country's national interests and security more vigorously," Araqchi told Tasnim.
In relevant remarks on August 12, Iranian President Hassan Rouhani had reaffirmed his administration's commitment to pursue the policy of "constructive interaction" with other countries as a basis for Tehran's foreign policy.
The Iranian chief executive emphasized the importance of elevating Iran's global stance, and added, "The administration's foreign policy will be based on safeguarding the national security, fulfilling national interests and serving the country's all-out and purposeful development."