Commander Says Police Managed to Squeeze Terrorists to Borders
October, 27, 2013 - 17:55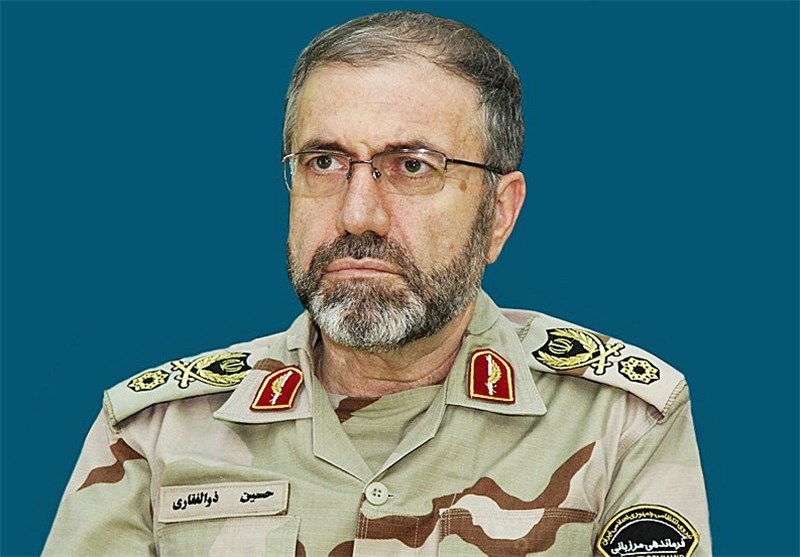 TEHRAN (Tasnim) – Iran's border police commander said strict control over border areas has invited terrorist attacks, including the deadly one on Friday, as his forces have cut the lifeline of drug traffickers and bandits, and added that the armed groups rely on the support of some countries.
"Since we focused on controlling these regions, there have been different threats on the part of armed groups and bandits against border guards. Due to the measures of the border police, we now see that such threats are carried out closer to the border," said Major General Hossein Zolfaqari in a meeting with border guards from across Iran.
Zolfaqari said the Friday ambush on border guards was not a lone incident as he said since late last year (Iranian calendar) "there have been dozens of attacks against our border forces, in many of which the bandits had to flee the region after sustaining high casualties."
The border police commander further said regions like Saravan, close to the border with Pakistan, had in the past been used as routes for the transfer of terrorists and different types of trafficking, and that the reaction of the armed groups reflects their frustration.
He added that the terrorist groups operating in the southern regions of the country are supported by regional and transregional countries.
"According to the existing information two countries give financial support to such groups while three others provide them with intelligence... As a result of measures we have done to control the borders, it is difficult for bandits and armed people to carry out raids without (foreign) support," Zolfaqari added.
On Friday evening, a group of armed men carried out an ambush attack on a border post in Gazbostan, near Iran's southeastern city of Saravan, on the border with Pakistan which has almost no control over its side of the shared frontier with Iran.
Fourteen Iranian border guards were killed and six were wounded in the terrorist attack, while the armed assailants took three soldiers hostage in the raid.
In a message published on Saturday, October 26, President Rouhani urged the country's interior minister to immediately form a special committee in cooperation with the law enforcement authorities in order to deal with such cases, and asked the minister to submit a report on the terrorist attack as soon as possible.
Iran's Deputy Interior Minister for Security Affairs Ali Amir Abdollahi said on Saturday that the interior ministry and the foreign affairs ministry are jointly pursuing the case.
Iran and Pakistan signed a security agreement in February, intended to take strict measures to combat terrorism as well as human and drug trafficking and other activities posing a threat to the national security of either country.
On Saturday, Iran's foreign ministry delivered an official note of protest to Pakistan's chargé d'affaires in Tehran over the deadly attack on Iranian border guards said to have been carried out through the Pakistani territory.