Mass Grave in North Bosnia Could Be Biggest Yet
November, 01, 2013 - 12:41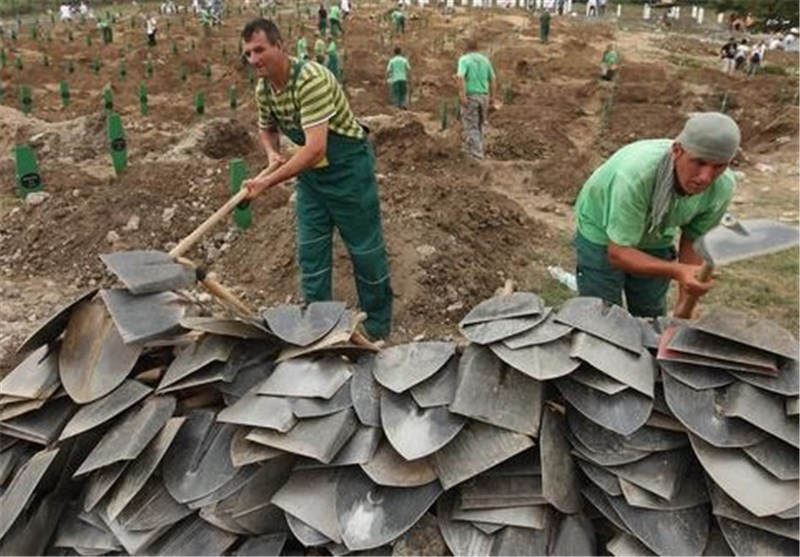 TEHRAN (Tasnim) - The remains of 360 people killed during the 1992-95 Bosnian war have been found at the Tomasica mass grave in Bosnia-Herzegovina, with authorities saying that the final figure could surpass the size of a mass grave in Srebrenica.
Bosnian authorities on Thursday said the Tomasica mass grave near the northern city of Prijedor could prove to be the biggest yet from the 1992-95 war, as forensic scientists continued to discover hundreds of bodies at the site.
The remains of 360 people have so far been recovered since the site was discovered in September, far more than was originally expected, according to authorities. The figure could eventually top the 629 bodies found at Crni Vrh in Srebrenica, around 300 km east.
Two decades ago, Serb soldiers conducted house-to-house searches in a campaign of ethnic killings in Bosnia. Prosecutors in charge of the Tomasica case said most of the victims were killed in nearby villages and brought to the mass grave to be buried, France 24 reported.
However, scientists have also found bullets in the grave, indicating that some of the victims were brought to the location alive and that it also served as an execution site.
Mujo Begic, an official of the Sarajevo-based Missing Person's Institute (MPI), told the Associated Press the bodies are of Bosniak and Croat men, women and children killed in their villages during the war.
He added that Tomasica is linked to a second grave found in 2003, located some 10 kilometres away, and that parts of the remains were moved by perpetrators from one site to the other in an effort to conceal crimes.
"Together with the relocated ones, the number of the bodies here indicates the biggest mass grave so far found in Bosnia," the Institute's Begic told AP. "We have found some identification documents in the grave, so we know who these people are."