Gaddafi's Jailed Son Appears on Libya TV
TEHRAN (Tasnim) - Slain Libyan leader Moamer Gaddafi's son Seif al-Islam, wanted by the International Criminal Court, appeared on television from his cell in a prison southwest of the capital.
November, 06, 2013 - 16:29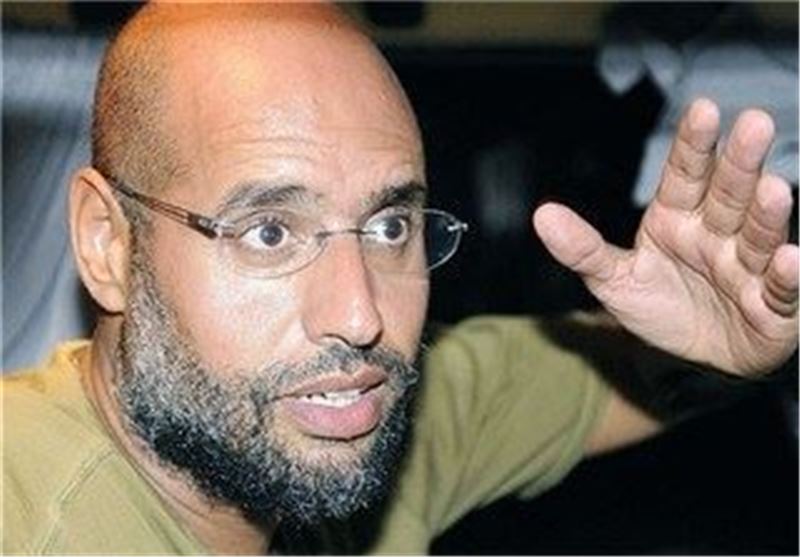 He gave brief answers to three questions from a journalist for Alassema television late Tuesday, confirming that he was allowed to receive visitors and was in good health.
Asked if he wanted to be tried in Tripoli or Zintan, 180 kilometres (110 miles) from the capital, he said: "Zintan is in Libya. There's no difference between Zintan and Tripoli."
The broadcaster said he had at first declined to be interviewed through his lawyer, but had then agreed to answer just three specific questions, AFP reported.
With a finger placed over his lips to hide a missing tooth, Seif appeared nervous and uncomfortable in front of the camera. He wore a blue prison uniform and was seated on his cell bed.
Ajmi al-Atiri, head of the ex-rebel brigade which captured Gaddafi's son in November 2011 and has been holding him since, said for "security reasons" he would not be transferred to Tripoli.
On October 24, a Tripoli court indicted Seif and around 30 Gaddafi aides for a raft of alleged offences during the 2011 revolt which toppled the regime.
But the Zintan rebels refused to have him transferred to the capital, despite a request from Libya's prosecutor general and although the authorities say his jail is under state control.
Instead, Seif appeared in court in Zintan the same day on charges of undermining state security.
Seif al-Islam, Caddafi's former heir apparent, is still wanted for trial by the International Criminal Court in The Hague on charges of war crimes and crimes against humanity during the uprising.