European FMs Voice Support for Trend of Talks with Iran
TEHRAN (Tasnim) – German and British foreign ministers voiced support for the general trend of negotiations during their meeting with the Iranian foreign minister and the EU foreign policy chief in Geneva.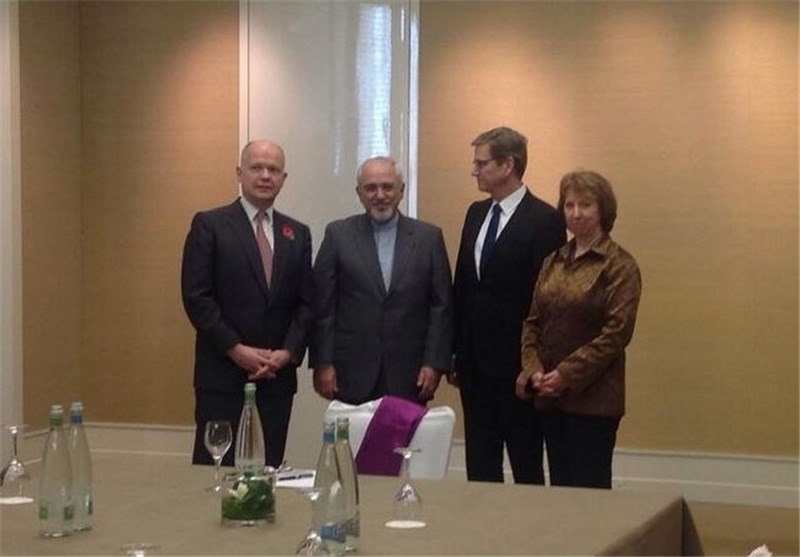 A source close to the Iranian team negotiating with the Group 5+1 (the five permanent UN Security Council members plus Germany) over Tehran's nuclear case told Tasnim that British Foreign Secretary William Hague and his German counterpart Guido Westerwelle have voiced their support for the trend of talks in a Saturday meeting with Iranian top negotiator Zarif which was attended by EU Foreign Policy Chief Catherine Ashton.
Hague said that momentum had built up in the negotiations and that the current atmosphere is quite different from that of just a few months ago.
"There is now a real concentration on these negotiations so we have to do everything we can to seize the moment and seize the opportunity to reach a deal that has eluded the world," he said.
While saying there was "good progress" in the talks, Hague added that there was still uncertainty about whether a deal could be reached.
The western delegations are holding separate meeting to consult on the details of the last round of talks between Iran and the Group 5+1. They also are in contact with their capitals in a bid to brief senior officials about the outcomes of negotiations held in the last two days.
In the meantime, sources close the Group 5+1 said the next round of talks between the six world powers and Iran is likely to be held early next week.
"The negotiations have reached (a) critical, very sensitive situation, and it needs decisions at higher levels," Iranian Deputy Foreign Minister Abbas Araqchi told reporters in Geneva.
Hoping to make an official announcement, US Secretary of State John Kerry on Friday joined his counterparts from Britain, France and Germany. The foreign ministers of Russia and China are now reported to be in Geneva. The five permanent members of the United Nations Security Council, plus Germany, have united as a diplomatic bloc in the negotiations with Iran.