Polish Police Clash with Far-Right Protesters
TEHRAN (Tasnim) - Polish police used rubber bullets to break up groups of masked far-right youths who threw fireworks and set fire to cars when a nationalist march through the centre of the capital turned violent.
November, 12, 2013 - 12:22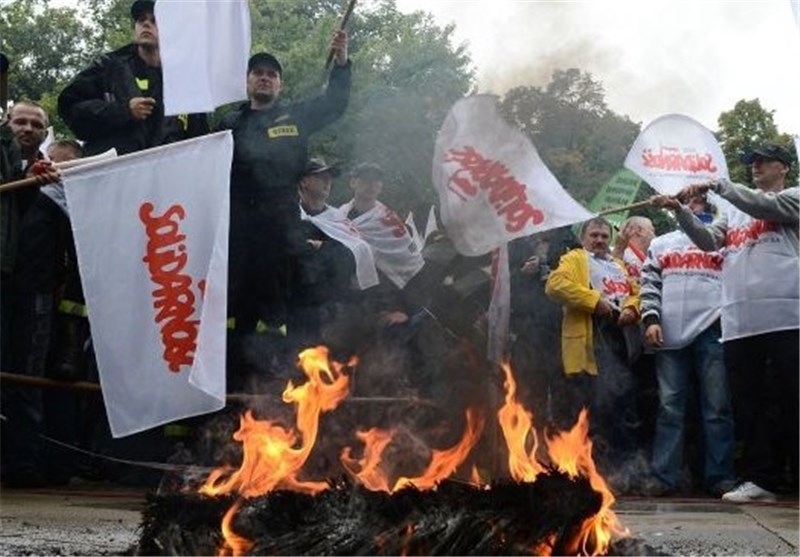 The march is an annual event to commemorate Poland's national independence day, and for the third year in a row it broke down into running battles in the middle of Warsaw between rioters and riot police.
Several thousand right-wing protesters began their march peacefully - watched by their own stewards in orange vests and with a police helicopter circling above, Al Jazeera reported.
The violence started when a few dozen youths, their faces covered by balaclavas and football scarves, broke off from the procession into a side street and started attacking a building where left-wing radicals occupied a squat.
Riot police moved in, and came under attack from youths throwing firecrackers and stones. As the rioters dispersed, several cars were set on fire.
Police spokesman Mariusz Sokolowski said officers had used rubber bullets, truncheons and pepper spray against the rioters.
Several people were arrested. Five officers were taken to hospital, local media reported.
When the march reached the Russian embassy - a symbol for some Poles of repression during Soviet rule - a part of the crowd threw firecrackers towards the building, but riot police formed a cordon around the perimeter, and the crowd later moved on.
The violence underscores the faultlines in Polish society. Many Poles have grown wealthier in the past few years, but a minority feel alienated and believe traditional values on marriage, abortion and the church have been swept aside.
Their growing profile in Poland mirrors the rise of the far-right elsewhere in Europe. The pain of the economic slowdown around the continent, coupled with local factors, has boosted support for nationalists and anti-immigrant groups in countries from Greece to Hungary and France.
In Poland, non-governmental watchdogs say incidents of racially-motivated violence are increasing, while youths shouting far-right slogans have gate-crashed university lecture halls where liberal academics have been speaking.