Egypt Player Suspended over Islamist Salute
TEHRAN (Tasnim) - Egypt's Al-Ahly football club says it has suspended striker Ahmed Abdel-Zaher without pay for using a four-fingered hand gesture linked to supporters of ousted President Mohamed Mursi in a goal celebration.
November, 12, 2013 - 13:23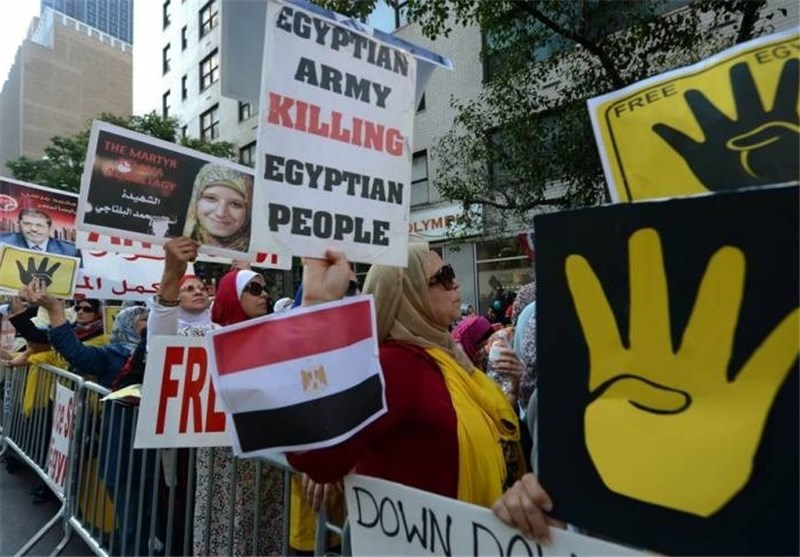 The newly crowned African club champion said that the 28-year-old forward was suspended on Monday for showing the sign after scoring the second goal in a 2-0 win over South Africa's Orlando Pirates in the African Champions League final second leg in Cairo on Sunday.
Ahly won 3-1 on aggregate for its eighth continental club title.
The suspension may mean that Abdel-Zaher may miss next month's FIFA Club World Cup in Morocco, the club sources said.
Islamists have often flashed the four-finger sign, called Raba'a (four) in Arabic, at anti-military protests since a deadly crackdown on supporters of ousted President Mursi in Cairo's Raba'a al-Adawiya square on August 14 left hundreds of people killed.
A senior member of the club told AFP on condition of anonymity that the move to suspend Abdel-Zaher was being taken because "he mixed politics with sport".
Egypt's Minister of State for Sport, Taher Abu Zeid, said in a statement that he "expects" the nation's football federation to "suspend and fine Abdel-Zaher the way Kung Fu fighter Mohamed Youssef was."
Egypt's Kung Fu Association banned Youssef from international championships for two years after he wore a T-shirt bearing the four-finger sign last month at a tournament in Russia.
"The ministry itself cannot take such decisions but the concerned institutions can," said Abu Zeid.