Philippine Typhoon Official Death Toll Jumps
TEHRAN (Tasnim) - The death toll from a powerful typhoon that swept the central Philippines nearly doubled overnight, reaching 4,000, days after the country's president lowered death estimates to between 2,000 and 2,500.
November, 15, 2013 - 12:57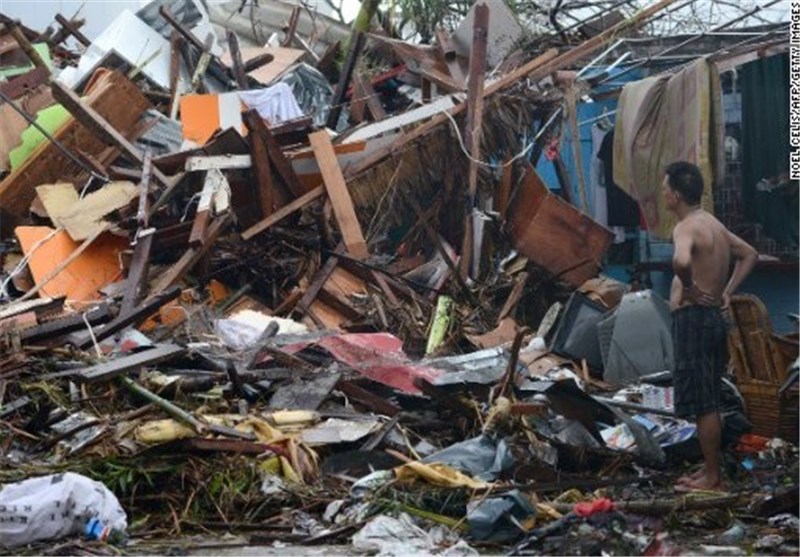 President Benigno Aquino, caught off guard by the scale of the disaster, has been criticized for the slow pace of aid distribution and unclear estimates of casualties, especially in Tacloban, capital of hardest-hit Leyte province, Reuters reported.
A notice board in Tacloban City Hall estimated the deaths at 4,000 on Friday, up from 2,000 a day before, in that town alone. Hours later, Tacloban mayor Alfred Romualdez apologized and said the toll was for the whole central Philippines.
The toll, marked up on a whiteboard, is compiled by officials who started burying bodies in a mass grave on Thursday.
Romualdez said some people may have been swept out to sea and their bodies lost after a tsunami-like wall of seawater slammed into coastal areas.
One neighborhood with a population of between 10,000 and 12,000 was now deserted, he said.
The City Hall toll was the first public acknowledgement that the number of fatalities would likely far exceed an estimate given this week by Aquino, who said the loss of life from Typhoon Haiyan would be closer to 2,000 or 2,500.
Official confirmed deaths nationwide rose by more than 1,000 overnight to 3,621 on Friday after the typhoon, one of the strongest ever recorded, roared across the central Philippines a week ago.
Adding to the confusion, the United Nations, citing government figures, put the latest overall death toll at 4,460, but a spokeswoman said it was now reviewing the figure.
On Tuesday, Aquino said estimates of 10,000 dead by local officials were overstated and caused by "emotional trauma". Elmer Soria, a regional police chief who made that estimate to media, was removed from his post on Thursday.
Stunned survivors in Tacloban said the toll could be many thousands. "There are a lot of dead people on the street in our neighborhood, by the trash," said Aiza Umpacan, a 27-year-old resident of San Jose, one of the worst-hit neighborhoods.
"There are still a lot of streets that were not visited by the disaster relief operations. They are just going through the highways, not the inner streets," he said. "The smell is getting worse and we actually have neighbors who have been brought to hospital because they are getting sick."
The preliminary number of missing as of Friday, according to the Red Cross, rose to 25,000 from 22,000 a day earlier. That could include people who have since been located, it said.
Typhoon Haiyan was one of the most powerful storms ever recorded on land.