Supreme Leader Highlights Importance of Strong Navy
TEHRAN (Tasnim) – Supreme Leader of the Islamic Revolution emphasized the prominent role played by the Iranian Navy in the region, adding that current conditions across the region have further highlighted the significance of the country's naval forces.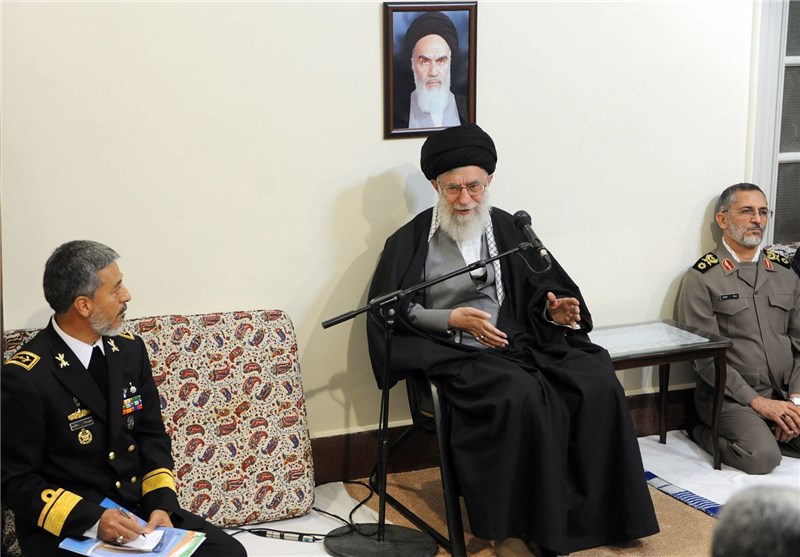 "The navy is of great importance in terms of science and equipment, and also enjoys a special political and military position given the policies that dominate the region and the existing of threats," Ayatollah Seyed Ali Khamenei said in a meeting with high-ranking navy officers, here in Tehran on Sunday.
The meeting, which was also attended by Iranian Navy Commander Rear Admiral Habibollah Sayyari, was held on the occasion of National Navy Day, which is marked annually on November 28.
The Supreme Leader also emphasized the need for further development of the navy, and added, "The fundamental objective of the navy should be to create and organize a military force in the level of the Iranian nation and the Islamic government's aspirations."
He went on to say that progress in the field of military hardware is not solely a sign of power, adding that manpower with strong resolve and courage is a contributing factor in military might.
Ayatollah Khamenei also touched on the prosperity that the navy can bring for the development of Iran's southeastern coastal regions on the rims the Sea of Oman, and said, "If the administration pays necessary attention, the Navy can prepare the ground for the speedy development and growth of this region."
In recent years, Iranian navy has made great headway in equipping its forces with the state-of-the-art equipment and has attained self-sufficiency in manufacturing a broad range of vessels and submarines.
Iran has repeatedly said its military might poses no threat to other countries, insisting that its defense doctrine is based on deterrence.