Speaker Voices Tehran's Preparedness to Develop Ties with Arab States
November, 25, 2013 - 20:15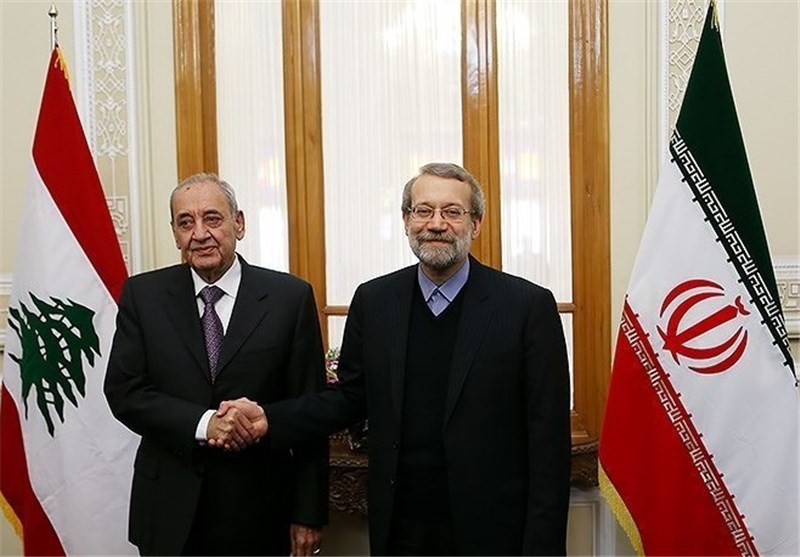 TEHRAN (Tasnim) – Iran's parliament speaker emphasized the need for sustainable relations between the Islamic Republic and its Arab neighbors, and added that Tehran is open to such bilateral ties.
"Iran's relations with the Arab countries should become sustainable, so that the others would not be able to penetrate into these relations, however, Iran welcomes this issue (sustainable ties) with open arms," Ali Larijani said in a meeting with Lebanese Parliament Speaker Nabih Berri, here in Tehran on Monday.
The visiting Lebanese speaker, heading a parliamentary delegation, arrived in Tehran on Sunday to discuss the bilateral ties and regional developments with top Iranian officials.
Describing Lebanon as Iran's "friend and brother" country, Larijani said Tehran and Beirut enjoy close ties in diverse fields.
He also hailed Lebanon's stellar role in the course of resistance in the region, adding that it has attracted the attention of Islamic countries.
Larijani further expressed satisfaction with Berri's visit to Tehran, and said, "In the meeting, we conferred on the bilateral relations between Iran and Lebanon and the ongoing developments in the region. We share very close views on strengthening the resistance and also on settling the region's complicated issues and bringing stability to the region."
The Lebanese speaker, for his part, said his meeting with Larijani includes negotiations on a broad range of issues, particularly the parliamentary relations in international arenas.
"However" Berri said "we conferred on the region's internal issues as well."
He also hailed the recent nuclear deal between Iran and the major world powers as a result of the "Islamic Republic's patience, prudence and courage", which he said could consequently resolve other problems as well.
Earlier on Sunday, Iran and the six major world powers (the five permanent UN Security Council Members plus Germany) inked an interim deal on Tehran's nuclear program following more than four days of intensive negotiations in the Swiss city of Geneva.
Aimed at ending a decade-long standoff, the agreement between Iran and the Group 5+1 (also known as P5+1) was clinched after tough diplomatic negotiations.