Cleric: Iran's Success in Geneva Talks Debunks Enemy Propaganda Campaign
TEHRAN (Tasnim) – A senior Iranian cleric praised the country's diplomatic efforts in the Geneva talks that resulted in a nuclear deal between Tehran and major world powers, saying the accord has given the lie to anti-Iran propaganda campaign mounted by the enemies.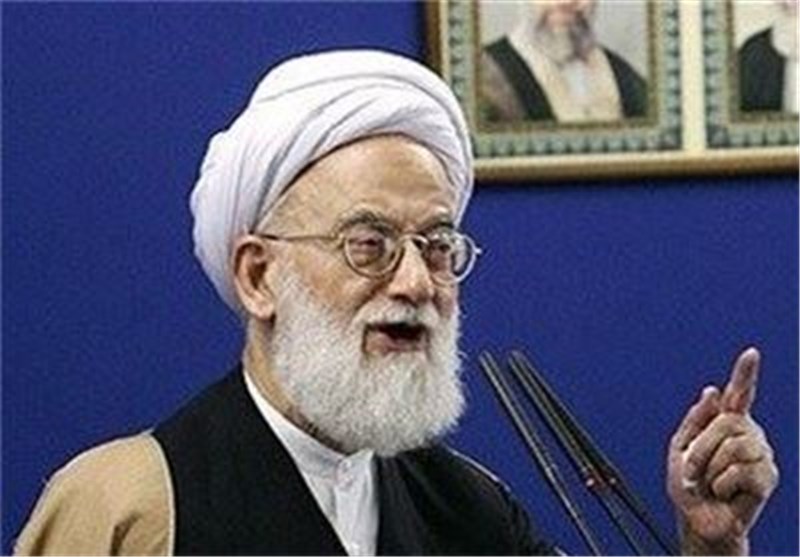 "The move of the Islamic Republic's diplomatic team and Mr. Zarif and his colleagues proved that the enemy's propaganda campaign against us was false… Currently, the world has realized that they (enemies of Iran) are lying," Tehran's Provisional Friday Prayers Leader Ayatollah Mohammad Emami Kashani said in an address to a large congregation of worshippers in Tehran today.
Iran and the G5+1 (also known as the P5+1 in diplomatic shorthand) signed a six-month deal on Tehran's nuclear program after three rounds of intensive talks in the Swiss city of Geneva on November 24.
The deal is intended to allow time to negotiate a comprehensive agreement on the nuclear program.
Pointing to the Non-Proliferation Treaty (NPT), to which Iran is also a signatory, Ayatollah Emami Kashani asserted that Iran is entitled to use nuclear energy for peaceful purposes.
Article 4 of the NPT guarantees countries the right to develop the use of nuclear energy for peaceful purposes.
It stipulates that nothing in this treaty shall be interpreted as affecting the inalienable right of all the parties to the treaty to develop research, production and use of nuclear energy for peaceful purposes.
The Iranian cleric further noted that the "illegitimate" western sanctions against Tehran have been undermined after the Geneva deal, and added, "The continuation of (anti-Iran) sanctions would not be justifiable for the world's public opinion anymore."
In relevant remarks on Tuesday, November 26, President Hassan Rouhani said the recent nuclear accord between Tehran and the world powers has created cracks in the sanctions regime imposed against the country.
In exchange for Iran agreeing to limit certain aspects of its nuclear activities, the United States and its allies have agreed to suspend some of the existing sanctions and let Tehran receive a small portion of its frozen assets while a permanent agreement is sought.
The agreement runs for six months while negotiations continue on a comprehensive final deal. There is little doubt, however, that the main sticking point is Iran's insistence that it has a right to enrich uranium for peaceful purposes.
While the US officials assert that Iran's right to enrich uranium would not be recognized in an interim deal, the text says the "comprehensive solution" will "involve a mutually defined enrichment program with mutually agreed parameters." This is evidence the United States and its partners have already agreed that Iranian enrichment activity will continue indefinitely.
Iran maintains that this is no concession but is, rather, recognition of the country's inalienable right under the NPT to enrich uranium on its own soil.