Kiev Protesters Gather, EU Dangles Aid Promise
TEHRAN (Tasnim) - Thousands of anti-government protesters gathered in central Kiev, rebuilding barricades torn down by police, as the European Union held out a promise of increased aid for Ukraine if it signed a trade and cooperation pact.
December, 13, 2013 - 14:12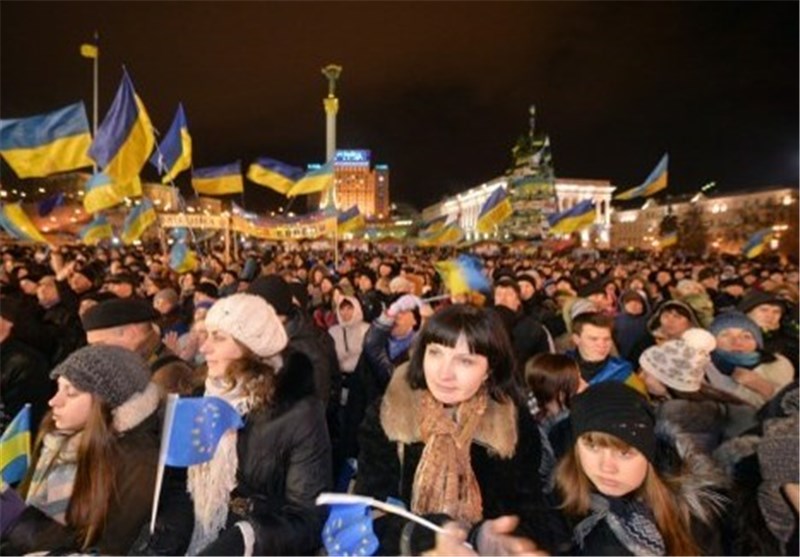 Ukraine's first deputy prime minister Serhiy Arbuzov flew to Brussels with a high-level delegation seeking billions of euros of aid from the EU in return for signing the agreement, which Kiev suddenly backed away from last month.
He said Ukraine, which is on the brink of bankruptcy, would "soon sign" the accord, but declined to provide any date.
EU enlargement chief Stefan Fuele pledged more aid to Kiev if it signed the agreement, and to help it negotiate a loan from the IMF, but gave no figures.
After hours of talks with Arbuzov, Fuele warned that Ukraine faced looming financial crisis, Reuters reported.
"We need to help Ukraine to restore rapidly the confidence not only of its citizens, but also that of international investors and creditors as a stable and predictable economy," he told reporters.
Ukraine's Prime Minister Mykola Azarov was quoted as saying on Wednesday he had asked the EU for 20 billion euros ($27 billion) in aid to offset the cost of signing the EU deal.
A sudden decision by President Viktor Yanukovich on November 21 to walk away from a trade-and-political agreement with the EU and revive trade with Ukraine's old Soviet master has brought hundreds of thousands on to the streets in a chain of weekend rallies, each one larger than the one before it.
Russian President Vladimir Putin, concerned protests could yet induce Yanukovich to seal the trade agreement with the EU to Moscow's detriment, painted a picture of a secure future for Ukraine in a Russian-led alliance.