Rouhani Sees Italy as "Gateway to Iran-Europe Interaction"
December, 23, 2013 - 12:14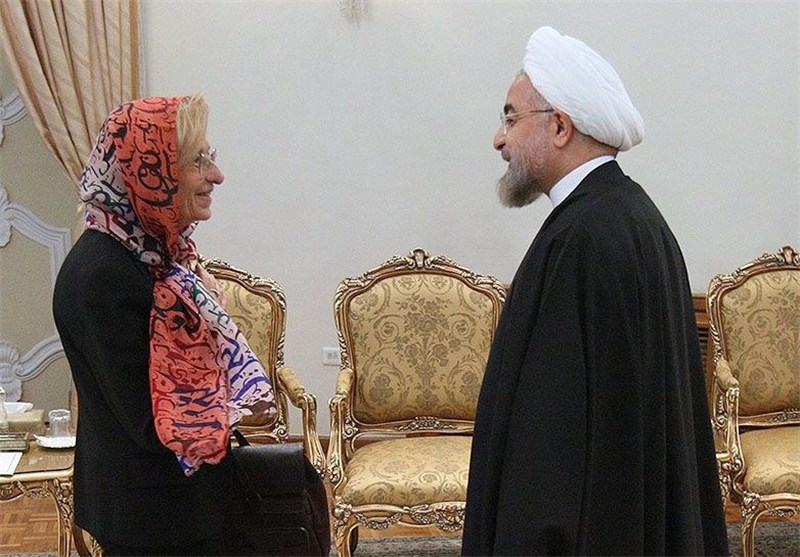 TEHRAN (Tasnim) – Iranian President Hassan Rouhani called for the highest level of bilateral relations between Tehran and Rome in all fields, and praised Italy for playing the role of a gateway to Iran's interaction with Europe.
"Italy has played the role of an important partner of the Islamic Republic of Iran, and has so far acted as the gateway to Iran's interaction with Europe," President Rouhani said in a meeting with visiting Italian Foreign Minister Emma Bonino here in Tehran on Sunday evening.
"Therefore" the president added "we must pursue the bilateral relations based on durable and long term goals for joint cooperation in all levels."
President Rouhani also noted that the current level of ties between Iran and Italy fall short of the two nations' expectations, adding that the both countries should expand relations given their administrations' determination to enhance bilateral ties.
He also voiced Iran's preparedness to fulfill Italy's energy demands, saying Tehran wants improved ties with Rome in the fields of industry, energy, commerce, environment, tourism, as well as scientific and cultural interaction.
Bonino, for her part, expressed her country's preparedness to develop all-out relations with the Islamic Republic.
She further stressed that Italy is willing to broaden ties with Iran by formulating a broad range of cooperation in economic, industrial and energy arenas.
Heading a high-ranking delegation, Bonino arrived in Tehran on December 21 for an official visit to hold talks with Iranian authorities.
Her visit comes after Iran's Foreign Minister Mohammad Javad Zarif travelled to Rome in November at the invitation of his Italian counterpart to exchange views on regional and international matters.