Protester Killed during Clashes in Bangladesh
December, 29, 2013 - 16:56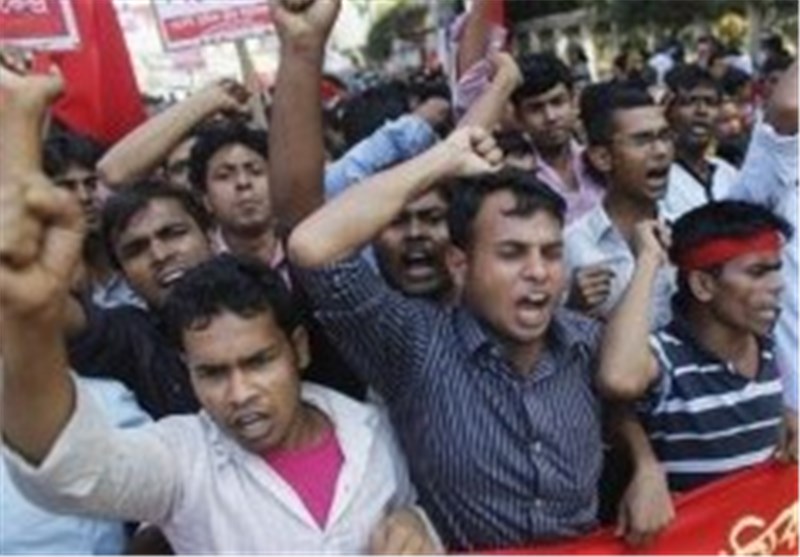 TEHRAN (Tasnim) - Bangladesh police fired water cannon and shotguns at opposition protesters in the capital, killing one person, at the start of a banned mass march aimed at thwarting next month's general election.
Hundreds of demonstrators, some throwing home-made bombs, battled police on Sunday as they tried to gather at the opposition's headquarters and other places throughout Dhaka for the so-called "March for Democracy".
The opposition says an election scheduled for January 5 must be held under a neutral caretaker government, as in the past, to prevent ballot-rigging.
BNP leader Khaleda Zia, a two-time former prime minister and Hasina's arch-rival, has urged supporters to defy the ban on Sunday's march and converge on the capital, Al Jazeera reported.
In Rampura neighbourhood, more than 200 demonstrators threw small bombs at police who responded with shotgun blasts during clashes there that left one person dead, a senior officer said.
Police have banned the so-called "March for Democracy" amid fears that the rally would become a focal point for more unrest after what has already been the deadliest year of political violence in the country's history.
Police have detained more than 750 opposition supporters as a "preventive measure", while authorities have suspended Dhaka-bound bus, ferry and train services, virtually cutting off the city from the rest of the country.
The main opposition Bangladesh Nationalist Party (BNP) and its allies have staged weeks of deadly protests, strikes and transport blockades to try to force Prime Minister Sheikh Hasina to resign. Dozens of people have been killed.
Running battles erupted between police and protesters near the BNP headquarters where Zia was scheduled later Sunday to address the rally, TV footage showed.
Ruling party activists, armed with sticks and rocks, also clashed with opposition protesters outside the press club.
It was unclear whether Zia would herself make it to the rally, with supporters accusing authorities of keeping her under de facto house arrest since Wednesday.
Five sand-laden trucks have been parked outside the gate of Zia's residence, apparently to prevent her leaving.
Police and security forces have conducted nationwide raids, searching trains and buses to arrest opposition supporters.
They have also set up check posts for passengers and commuters at the entry points to Dhaka.
Security has been tight in the city with around 11,000 officers and the elite Rapid Action Battalion patrolling the streets and key flashpoints.