President: Gov't Resolved to Protect National Interests
TEHRAN (Tasnim) – Iran's president said on Thursday that his administration is resolved to protect the country's national interests and safeguard its security.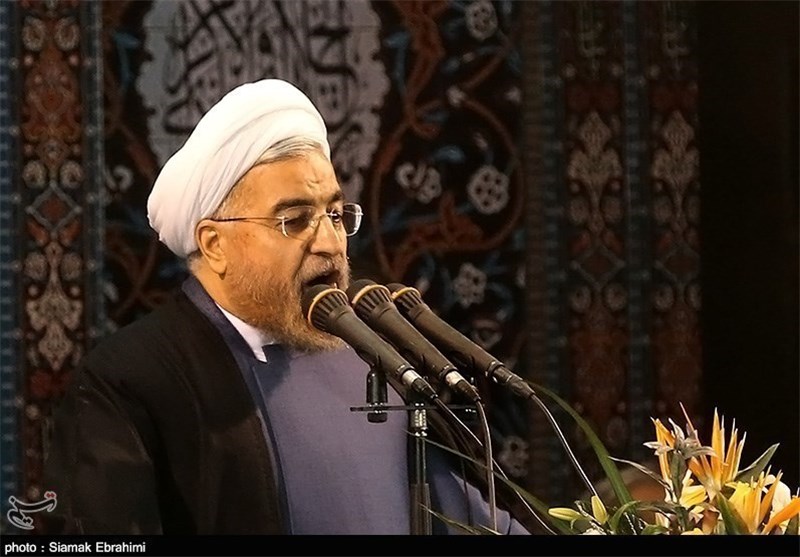 "For us the red lines are very important since they are related to our national interests and national security," President Hassan Rouhani said during his visit to Iran's southwestern Khozestan province.
"We have observed and will observe those red lines, and accordingly, we have taken the initial steps thus far, and will take further steps, as well," he said, addressing a group of industrial workers and managers at Darkhowein oil zone.
The president said the mission is very hard since Iran, is not negotiating with a small country in a corner of the world, but it is in talks with six major world powers.
"Therefore" Rouhani said "we should seek a win-win agreement."
Iran and Group 5+1 (the US, Britain, France, Russia and China plus Germany) on Sunday reached an agreement to start implementing the Geneva nuclear deal as early as January 20.
Earlier, Iran and the six major world powers agreed that a landmark nuclear deal, reached in Geneva last November, would come into force on January 20, with the two sides gearing up to take balanced, proportional steps in a period of six months to pave the way for a final solution.
The two sides had on November 24 signed a six-month deal on Tehran's nuclear program based on which the world powers agreed to suspend some non-essential sanctions and to impose no new nuclear-related bans in return for Tehran's decision to freeze parts of its nuclear activities and to allow more inspection of its nuclear facilities.
The Geneva deal also stipulates that over the course of six months, Iran and the six countries will draw up a comprehensive nuclear deal which will lead to a lifting of the whole sanctions on Iran and Tehran will provide the world verifiable guarantees that its nuclear program is solely for peaceful purposes.
Seyed Abbas Araqchi, Iran's deputy foreign minister for legal and international affairs and one of the country's top negotiators, told reporters on Sunday that once Iran begins to implement the Geneva deal (also known as the Joint Plan of Action), the six powers will begin to ease sanctions on Tehran.
He had met Deputy EU Foreign Policy Chief Helga Schmid in Switzerland last Thursday and Friday to iron out remaining practical questions related to the implementation of the November 24 deal.
Araqchi has also emphasized that both Tehran and the six powers will proceed to implement the Geneva deal in a balanced way.
Giving details about the deal, Araqchi announced in televised interview on Sunday that each party's commitments would be implemented "in one day".