More Arrested in Spain as Protests Continue
TEHRAN (Tasnim) - Around 20 people were arrested in Spain following a series of violent incidents in several cities around the country.
January, 18, 2014 - 17:08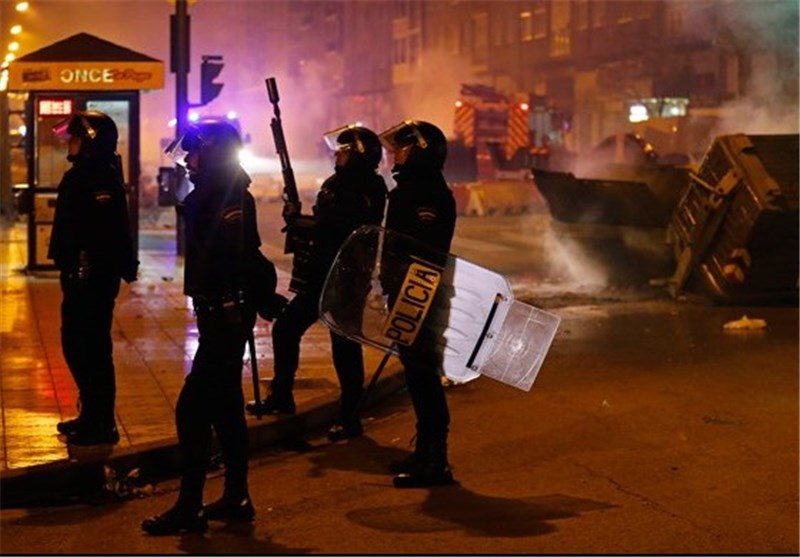 The incidents, which occurred either after or during demonstrations called in support of the Gamonal neighborhood in the city of Burgos, where neighbors have been protesting for over a week against plans to convert an important four-lane road into a two-lane boulevard.
Burgos saw violent scenes over a week ago with over 30 arrests and although the mayor of the city announced on Friday a definitive end to his plan to change the design of the street, the climate of protest has spread around Spain.
The capital city of Madrid saw its third night of confrontations between radical groups and riot police, continuing a trend which began on Wednesday night, when there were arrests and baton charges close to the headquarters of the ruling Popular Party close to the city center, Xinhua reported.
Hundreds of people took to the streets of Madrid again late on Friday after another concentration in the central Puerta del Sol. There were incidents as a group of protestors tried to cut the flow of traffic along the Gran Via and there were further incidents close to Atocha railway station, which ended with further baton charges and a handful of arrests.
The scenes were repeated in Barcelona where police were forced to act after demonstrations in the Raval district, while a second and more central protest which began in the Plaza Urquinaona with the attendance of around 600 people also ended in violence.
The same night a new protest in Burgos itself saw 4,000 people take to the streets, despite the decision to end the road conversion work. Once again riot police took action and several light injuries were reported.
Protests along the east coast of Spain led to seven arrests in the cities of Valencia and Alicante: Police indicate they were forced to act after demonstrators threw eggs, stones and bottles at them, while there were two further arrests in Zaragoza following a march organized by several social collectives.