Senior MP, Former French FM Stress Expansion of Tehran-Paris Ties
TEHRAN (Tasnim) – Chairman of the Iranian Parliament's National Security and Foreign Policy Commission Alaeddin Boroujerdi and Former French Foreign Minister Herve de Charette in a meeting in Tehran called for the further expansion of Tehran-Paris ties.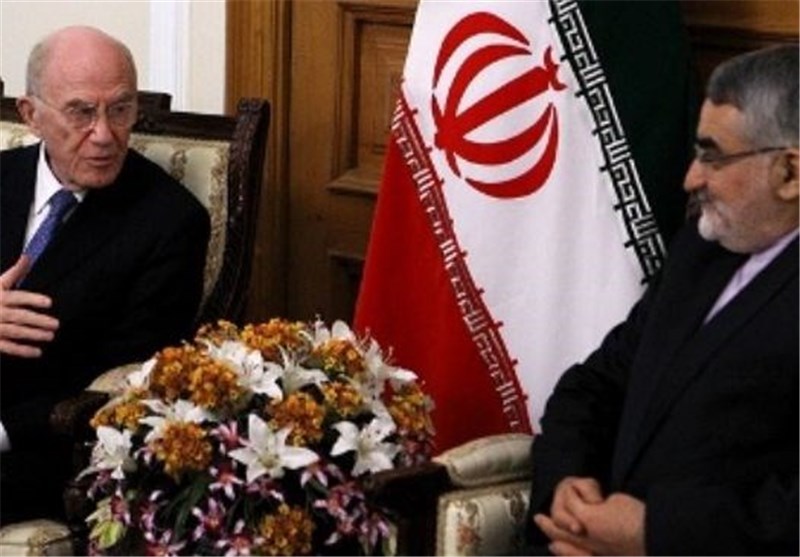 During the meeting held on Sunday, the French diplomat voiced interest in expansion of ties between Paris and Tehran, and stated, "In the current situation, relations between the two sides should change in the interest of promotion of mutual cooperation in various fields."
The Iranian lawmaker, for his part, said Iranians do not have negative feelings about the French people, and noted, "This positive mindset should not be allowed to deteriorate because of some incorrect policies and measures."
Earlier and on the sidelines of a meeting with Ali Akbar Velayati, a top international adviser to Supreme Leader of the Islamic Revolution Ayatollah Seyed Ali Khamenei, here in Tehran on Saturday, Charette had said there is considerable scope for the development of bilateral relations between Iran and his country in future, saying the both sides have strong political will to foster closer ties.
"I am very optimistic about the future, and I am sure that in the future days and in the future eras you will see that there is very positive news on the enhancement of relations between Iran and France," he told reporters.
As regards the reason behind his mood of great optimism, de Charette explained that "the two sides' political will is based upon" an improvement in the bilateral relations.
Asked about the possible return of French automakers to the Iranian market, de Charette said in case Iran shows willingness, the big French companies and industrial giants will certainly flock into the country.
"As a person who is familiar with the international issues… I believe that there is ground for the two countries' relations to find the right path after several years," he explained.