Supreme Leader Terms Iran-Turkey Ties "Unique"
TEHRAN (Tasnim) - Supreme Leader of the Islamic Revolution Ayatollah Seyed Ali Khamenei, who received visiting Turkish Prime Minister Recep Tayyip Erdogan on Wednesday, hailed as "unique" the existing status of bilateral relations between Iran and Turkey.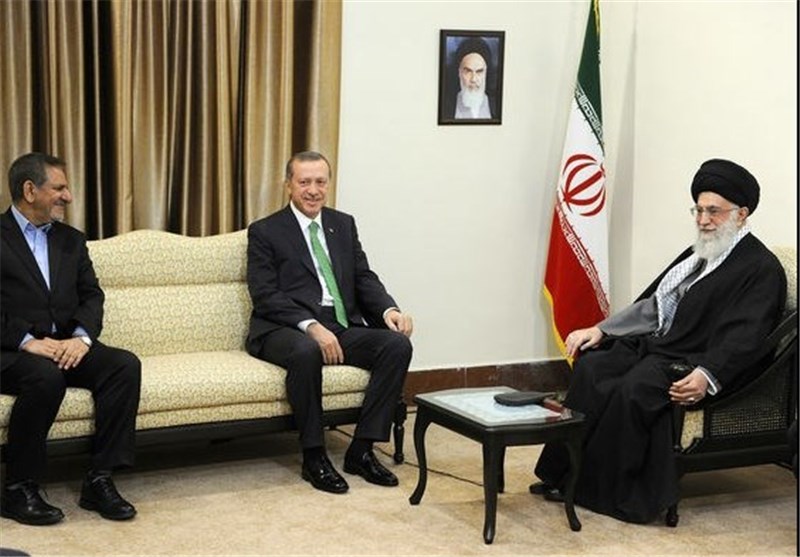 During the meeting held in Tehran on Wednesday, Ayatollah Khamenei said that the ongoing spirit of "brotherhood, affection and friendship" between Tehran and Ankara is unprecedented in the recent centuries.
"The two sides' enormous potential is a suitable ground for the further expansion and deepening of relations," the Leader underlined.
Ayatollah Khamenei further noted that both Iran and Turkey should seriously try to put those agreements made during Erdogan's visit to Tehran into practice, and added, "Such seriousness will result in the strengthening and more rapid development of interactions (between Iran and Turkey)."
The Supreme Leader also touched upon the strong emotional bond between the Iranian and Turkish nations, and emphasized the necessity for the "correct use of the existing opportunities".
Erdogan, for his part, conveyed the warm greetings of the Turkish nation and president to the Leader, and hoped for the increasing expansion of relations between the two countries.
He expressed the hope that amicable ties between Tehran and Ankara would turn into a paradigm for the region and the global community.
Erdogan arrived in the Iranian capital late Tuesday on an official visit to hold talks with senior Iranian authorities on Tehran-Ankara ties, trade relations and regional issues.

This is Erdogan's first trip to Tehran after the Iranian president took office in August 2013.
Observers believe that the Turkish premier's visit to Iran marks a milestone in regional issues.
Commentators argue that Erdogan's trip will have great significance for the region, as Tehran-Ankara cooperation will have a major impact on the Syrian crisis.