Tehran, Ankara Share Views on Major Regional Issues: Rouhani
TEHRAN (Tasnim) – Iran's President Hassan Rouhani underlined that Iran and Turkey have similar views on major regional issues like the need to fight terrorism and extremism.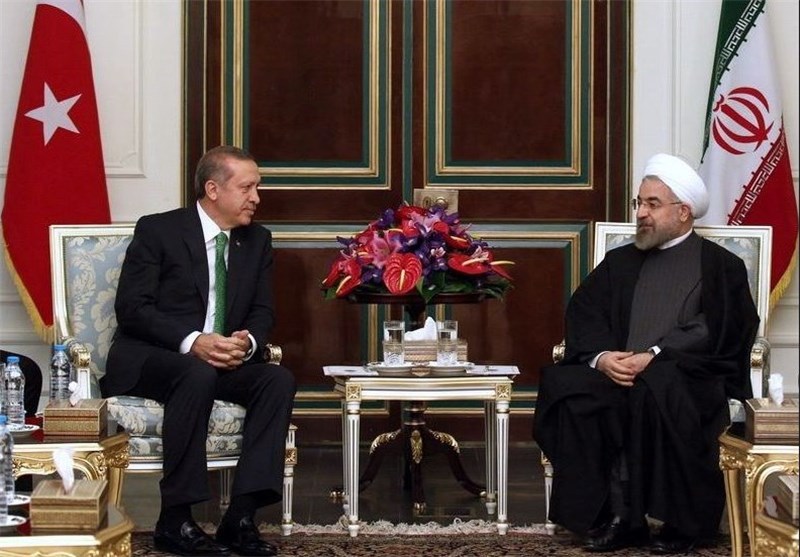 The president made the remark on Wednesday in a meeting with visiting Turkish Prime Minister Recep Tayyip Erdogan.
He said the development of collaborations between Iran and Turkey as two powerful countries in the region "will thwart terrorist activities."
Rouhani referred to helping the Syrian people as one of the regional issues shared between Iran and Turkey.
Commenting on the Syrian situation, he stressed that "only the people of Syria should decide for the future of their country."
The president also called for the expansion of bilateral relations in all economic fields as well as tourism and academic fields.
Erdogan, for his part, highlighted the strong historic bond between Iran and Turkey.
"It is our duty to enhance fraternity between our two nations as it would pave the way for boosting political, economic and cultural relations between the two countries," he stated.
Erdogan described Iran and Turkey as the most powerful countries in the region, adding "our aim is to develop all-out relations with Iran."
Pointing to mutual economic ties, the Turkish prime minister said the volume of annual trade between the two countries is planned to reach $30 billion by 2015.
Elsewhere, Erdogan referred to the regional issues and said Iran and Turkey share a sensitivity to fight terrorism.
He said terrorist groups that operate under the name of Islam have nothing to do with the religion, stressing that Ankara will enhance cooperation with Tehran to confront terrorist groups.
At the end of the meeting the two top officials signed an agreement to form a supreme council for political cooperation between Iran and Turkey.
Comprising the two countries' economic, political and cultural ministers, the council will hold annual meetings consecutively in Tehran and Ankara.
The creation of the joint council at such a high level, the first since the 1979 victory of Iran's Islamic Revolution, is expected to set the ground for significant expansion of bilateral ties between Iran and Turkey.
Erdogan arrived in the Iranian capital late Tuesday on an official visit to hold talks with senior Iranian authorities on Tehran-Ankara ties, trade relations and regional issues.
This is Erdogan's first trip to Tehran after the Iranian president took office in August 2013.
Observers believe that the Turkish premier's visit to Iran marks a milestone in regional issues.
Commentators argue that Erdogan's trip will have great significance for the region, as Tehran-Ankara cooperation will have a major impact on the Syrian crisis.